Power Hour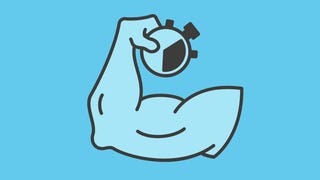 Power Hour
Power Hour creates one tight 60-minute set from a musician's discography or a genre, picking both big hits and deeper cuts.
For about 20 years—from roughly 1955 to 1975—James Brown stayed ahead of the curve by stripping down. While other rock and R&B acts courted favor with mainstream audiences by moving toward softer sounds, lavish orchestrations, and sophisticated concept albums, Brown tried to see how far he could get on groove alone. That's not to say he never went in for mini-symphonies or grand statements, but for the most part, the best-known and best-loved James Brown cuts are defined by a memorable chorus and an extended vamp. During the first decade of his career especially, when his contemporaries were doing their best to sand off their rougher edges or to dole out the explosive moments sparingly—lest they scare off the squares—Brown would cut entire singles that consisted almost entirely of "the good parts" of a song.
That's one of the reasons why his records were strip-mined for samples so much during the early hip-hop era: There's scarcely a grunt, sting, or break on a James Brown song that's not clean enough to be recycled. That also speaks to Brown's methods of operation. As has been well-documented—including in last year's biopic Get On Up—Brown treated his bands the way drill sergeants treat new recruits. The boys were always on call for whenever their boss wanted to rehearse or record, and they were subject to fines if they blew a cue or fell off the beat. It may not have constituted ethical business practices, but Brown's managerial style did result in some tight, tight tracks. His own instruments of choice were drums and keyboards, and so he treated his backing players as one big combination drum-kit and pipe-organ, using his voice to call for the sound he wanted rather than playing the notes with his hands.
In concert, Brown then strung those songs together, like pieces of a larger whole. He'd already had an impressive run of R&B chart hits when in 1963 he urged his label to release his best overall album, Live At The Apollo, which radio stations would then play in its entirety due to the high volume of listener requests. The intensity of the performance and the brevity of each number—which roll easily into each other, connected by a brief, frenzied horn-and-drum cadence—whetted the public's appetite for more of the same, and in the years that followed Brown released more material recorded either live in concert or live in the studio, establishing a sound meant to get listeners moving and not let them rest.
The style he pioneered would, by the end of the 1960s, cross-breed with acid-rock and become what's popularly thought of as "funk." But Brown's version of funk—which was the original version, according to most pop scholars—had its roots in the call-and-response of gospel and the instrument hopping of jazz. It's hard to call it "joyful" exactly, because Brown and his band always sounded like they were working, not playing. But the music is ecstatic.
The hour-long set below sticks with Brown's strongest stretch, from Live At The Apollo through the more extended, hard-groove tracks of the 1970s. Missing here are the more conventional roadhouse blues of his early years—aside from the live reinterpretations from the Apollo—as well as the later novelty records and fluke hits that cashed in on the musical trends of their times. But these 14 songs do represent the Brown that's been most influential, seeding everything from Fela Kuti's Afrobeat to modern turntablists. More to the point: This is an hour of pulse-quickening music, programmed to turn novices into disciples.
1. "I'll Go Crazy (Live)" (1962)
Few live albums have ever been able to capture the excitement of an actual show as well as Live At The Apollo, which in just 31 minutes documents the frenzy of the crowd, the snappy succession of songs—broken up by one 10-minute slow-jam, "Lost Someone"—and Brown's own manic energy. "I'll Go Crazy" sets the pace, following up Fats Gonder's hyped-up opening intro with more of Brown stoking the audience, and then a quick run through the song. Brown's backing group The Famous Flames do more actual singing than their boss does during these two minutes, but that's because this opener is more about Brown hitting the ground running, and demonstrating how he's going to spend the next half-hour: yelping and dancing through goosed-up versions of his catalog of hits.
2. "Get On The Good Foot" (1972)
By the early 1970s, Brown had seen his personnel turn-over a couple of times, and perhaps as a result, longer funk workouts like "Get On The Good Foot" don't have as much personal interaction as the 1960s songs often do. But even that increased sterility was influential in its way, pointing the way toward the crisp beats and charts of the disco era. And Brown does get down with his band toward the end of "Get On The Good Foot," urging bassist Fred Thomas to give him a good, soulful bass solo as they hit the home stretch.
3. "I Got The Feelin'" (1968)
Not all of the influential late 1960s and early 1970s James Brown funk workouts are sprawling. "I Got The Feelin'" is short and sweet, taking less than three minutes to get through its punchy mix of horns, guitar, drums, and Brown's vocal improvs. The highlight of the song—much imitated and sampled—is the two short interludes of Brown grunting "baby, baby, baby" over and over, so transported that he doesn't always sing directly into the microphone. Sometimes Brown tried to tackle big issues like drug abuse and racism in his songs, but "I Got The Feelin'" is one of the purest distillations of what his best music was mostly about. He had a feeling. He called up the band. They got it on tape.
4. "Doing It To Death" (1974)
Some of the musicians who quit Brown's band later returned, and "Doing It To Death" marks a reunion of some of the best of the them—most notably saxophonist Maceo Parker, whom Brown pretends not to recognize during the fade-out. The result on this particular song is more conversation and improvisation, as Brown gets everybody on the same page and then starts making little adjustments. The biggest change comes more than halfway through, when the band drops the key from F to D, which their boss seems to enjoy so much that he cackles with delight.
5. "Think (Live)" (1962)
Another performance from Live At The Apollo, this "Think" is a prime example of how Brown and The Famous Flames reworked their material for the stage. The tempo here is zippier than on the original single, and while Brown's howling renders the lyrics nearly incoherent, the polyrhythmic interjections of horns and handclaps provide plenty of structure and texture. Brown barrels through the song like a runaway train, but his band keeps the track straight and clear. This is the dynamic that he'd begin to explore more a few years later with singles like "Out Of Sight," "I Got You (I Feel Good)" and "Papa's Got A Brand New Bag"—the recordings that signaled entirely new possibilities in R&B.
6. "I've Got Money" (1962)
There's no better example of how much more intense and electrifying James Brown was than anything else on the radio in the early 1960s than this absolutely bonkers single, which rockets through the stratosphere. The song only expresses a single idea lyrically—Brown has money and could use some loving—but after making that point a couple of times, "I've Got Money" just goes nuts, with pumping horns and a skittering beat racing behind Brown's wanton shrieks. It's a brief, tantalizing preview of the lickety-split Live At The Apollo, and in Brown's back-and-forth conversations with the band, he sketches out the audio verité approach that would soon become his hallmark.
7. "Super Bad" (1970)
Brown gets credit as a forerunner of hip-hop because of his emphasis on beats and breaks, but songs like "Super Bad" are also proof-on-concept for all the rap boasting to come. This is the kind of number that pumps people up, and makes them feel like world-beaters. (It's no wonder that Ron Shelton used it so effectively during one of the basketball montages in his movie White Men Can't Jump.) Also noteworthy: the sax solo of Robert McCullough, whose atonal wailing inspires Brown to shout, "Blow me some 'Trane, brother." Brown always had a love for jazz that he showed by giving his horn-players space to do their thing, but in "Super Bad" he actually tries to incorporate some of the genre's avant-garde developments into his own cutting-edge funk.
8. "I Don't Mind (Live)" (1962)
How fast are the performances on Live At The Apollo? So fast that even on this slow-walking ballad, the background singers turn the chorus into a blur of words: "I-doe-my." Brown doesn't intend to let the electricity in the room dissipate, even for the two minutes it takes to sing a heartbreak song. The actual recording here also illustrates what's so beautiful about Live At The Apollo. The brief wobble in Brown's vocal track, and the distant shouts of "I sure do, baby," and "That's right," convey the idea that we're listening to documentary evidence of one special moment, frozen in time.
9. "Give It Up Or Turnit A Loose" (1969)
Even more bare bones than usual, "Give It Up Or Turnit A Loose" is mostly a showcase for Brown's longtime guitarist Alphonso "Country" Kellum, who provides the gritty central riff and anchors the funky breaks. It's also a recording with more of Brown's real-time consternation, as he calls for a restart on the intro and then complains about a miscue at the end by singing "no, no, no." Because his style was interjectory by nature, Brown could correct the band without stopping the tape, and most listeners would be none the wiser. That one-take approach gives songs like "Give It Up" a unique kind of tension, as the bandleader seems to be fighting in the moment to achieve a sound that may be just beyond what he can get.
10. "Get Up (I Feel Like Being A) Sex Machine" (1970)
How often is a song about screwing as adorable as this one? It could be argued that "sex" here is a metaphor for "music," given that Brown starts the track by telling the band that he's "ready to get up and do my thing"—and given that presumably he's inviting them all to watch. Still, the band's strokes in "Sex Machine" are decidedly sensual, from Brown's own rippling piano to the spry rhythms of his then-new guitarists Bootsy and Catfish Collins. Any couple who cued up this track before commencing to do the deed would enjoy a very pleasurable five minutes.
11. "Night Train" (1962)
Often mistakenly identified as a James Brown original, "Night Train" was actually an R&B staple—the roots of which date back to the 1940s—that The Famous Flames turned into one long shout-out to the cities and communities that had supported their music. The motivations behind Brown transforming the song may have been strictly commercial, aiming to boost airplay and bookings across the eastern half of the United States. But this version ended up being unexpectedly unifying, connecting up dozens of different pockets of black culture via a chugging beat and a squawking sax.
12. "Papa's Got A Brand New Bag, Pts. 1, 2 & 3" (1965)
The single version of "Papa's Got A Brand New Bag" was edited down and then sped up from this slower seven-minute take, and while the shorter "Papa" is often considered the precursor to funk with its concise guitar stings and bottom-heavy horns, the longer one (unreleased officially until the 1991 box set Star Time) reveals how prescient Brown was. It's not just that he kicks off the track with some studio chatter and the call to action, "This is a hit!" It's that he also keeps the band playing the same curtailed riff over and over, pushing the groove until it becomes almost trance-like. Then Brown turns the song over to saxophonist Maceo Parker, who'd just joined the band the year before, and lets him wail away on first tenor then baritone. This is the seminal sound of The James Brown Band, in the process of being born.
13. "Cold Sweat (Live)" (1967)
Later in the 1960s, Brown returned to the Apollo to record another live album—Volume II—and to show off how his sound had developed in the five years since his breakthrough. The centerpiece of the second Apollo record is its second side, which strings "Let Yourself Go," "There Was A Time," and "I Feel All Right" together into one long, transcendent vamp, then caps it all off with a performance of the game-changing hit "Cold Sweat," the song that codified the breakthroughs of "Papa's Got A Brand New Bag." Unlike on the first Live At The Apollo, the version here of a well-known Brown song doesn't crank it up to a higher pitch, but rather settles even deeper into the dense rhythmic interplay. At one point, Brown sings about doing "the James Brown," and that's really what this whole era of his music sounds like: the sonic equivalent of the gliding, spinning, anxious dance that he was known to do across a stage.
14. "Get It Together" (1967)
The docu-realism and infectious vitality of a James Brown Band recording session hits its peak in the full-length "Get It Together," a charging uptempo number that Brown turns into an impromptu practice session down the stretch. After he spends a few minutes chastising dropouts and screw-ups, Brown turns his attention to his musicians, testing their flexibility by having them drop in and out and change volume. He asks them give him one, two, three, and four—"Can I possibly get four?"—and then has them start and stop on a dime when he says "hit it" and "quit it." They don't all nail their parts, and Brown teases them a little whenever they lose his little musical game of "Simon Says." Forget the lyrics; this track tells its own story in the way that the players interact with each other and with their sometimes-cranky leader, who keeps them working right up until the moment when he tells the engineer to fade him out because he has another gig to get to.
Total time: 59:51