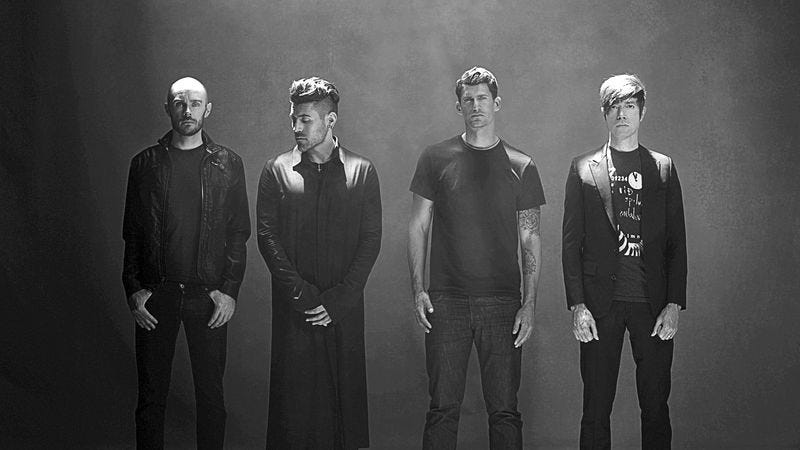 The current emo revival has sparked a ton of articles lately, which has naturally led to a reassessment of what that slippery genre even means. Like clockwork, AFI has come up in the conversation. Although the group began in the early '90s as a speedy, goofy punk outfit, it had morphed by the turn of the millennium into a kohl-eyed, hyper-stylized group whose extravagant sound polarized a generation. But the band's commercial spike, 2006's Decemberunderground, coincided with peak emo; from there it's been a downward slide in popularity for both AFI and the nebulous genre it got slung into. AFI's 2009 album, Crash Love, was a bouncy yet muddled attempt at some sort of streamlining, but it was too late for that. AFI means bold flourishes and desperate gestures—which is why Burials, its first album in four years, has given the group a new lease on life-or-death.
At its best, AFI owns its love of vintage goth and industrial—and on Burials, those are the only genres that truly factor into the equation. There may be broad strokes of epic punk on songs like "Rewind" and "Greater Than 84," but they're exceptions that also serve as the album's most dismissible, lackluster tracks. Those aside, Burials shimmers and chimes. "I Hope You Suffer" sees frontman Davey Havok taking an ice bath of antipathy, his voice dipping and soaring over tribal-inflected drums that call to mind Pornography-era Cure—not surprising, considering AFI covered that album's "The Hanging Garden" 15 years ago. The Cure influence also haunts the upbeat tracks "A Deep Slow Panic" and "Wild"—a reminder of the range AFI is capable of.
That range doesn't always work, as the industrial-edged moments of "No Resurrection" and "The Conductor" mar otherwise solid songs; in particular, "No Resurrection" harnesses the crystalline churn of Joy Division, as does "17 Crimes," even if both sparkle in a way that's more brooding than glooming. "17 Crimes" is also the album's best showcase of how effectively Havok has learned to modulate his histrionics, a process of self-editing that brings his thespian heart-clutching to a simmer instead of a boil. And when "Greater Than 84" manages to transcend its flatness with a bit of self-aware commentary—"Love is all that's left," Havok sings, "And I'm emotionless"—it drives home AFI's '80s-goth roots, a dark romanticism that runs far deeper than any emo stereotype.
Burials is obsessed with beginnings and endings, so it makes sense that its best moments are its bookends. Opener "The Sinking Night" and closer "The Face Beneath The Waves" are of a piece; not only do they rise and fall on a tide of haunted atmosphere given shape by Havok's Dave Gahan-like croon, they call back to the horror-drowned theme of Black Sails In The Sunset, the band's 1999 turning point from punk to goth. At this point in AFI's existence, it shouldn't matter what arbitrary pigeonhole it gets crammed into or excluded from. Burials is, barring a few missteps, a work of operatic melodrama set to bleak, bold, impeccable hooks. And that's all it needs to be.