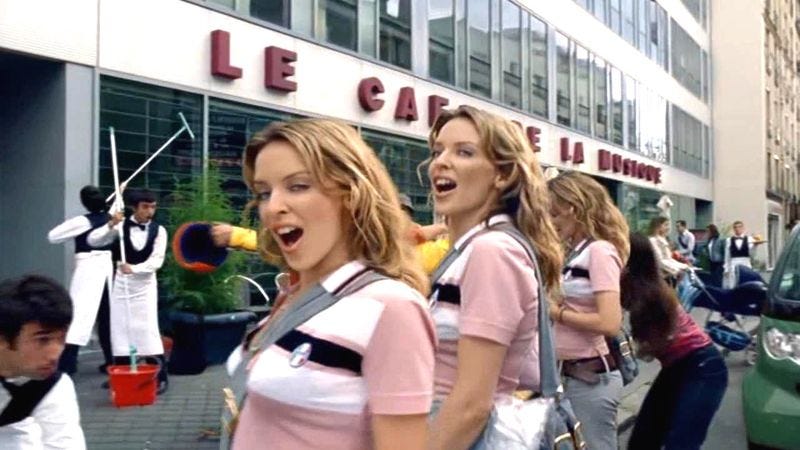 Music videos have been in a state of recession for years now, as downturns in the music industry and the rise of low-cost, high-concept viral videos have supplanted the big-budget event video. But the one-shot music video has endured even as the music video has mostly outgrown its auteur phase. Because elaborate one-shots are so difficult to pull off, ambitious artists and intrepid directors are drawn to them for the visual spectacle as much as the bragging rights. Director Michel Gondry single-handedly raised the one-shot to new heights, but his ingenuity has been matched by a few artists and directors brave enough to try the most difficult trick in music video, if not all of cinema.
1. Smashing Pumpkins, "Ava Adore" (1998, directors Dominic Hawley and Nic Goffey)
The difficulties that plagued Smashing Pumpkins throughout the Adore period extended to the video for the first single, 1998's "Ava Adore." In a commentary about the making of the clip, frontman Billy Corgan says he was "adamant" about doing a one-shot, but despite his passion, the production process nearly broke his spirit. "It was one of the most frustrating days of our lives," says Corgan. "But somehow, someway, I still like this video." Directorial duo Dom and Nic hewed closely to Corgan's vision of a one-shot tour through a bacchanalian underworld. But the directors insisted on manipulating the speed of the performance so Corgan and his bandmates would appear to speed up and slow down as Corgan's lip synching remained static. That choice was so technically difficult for the directors to figure out, it resulted in an 11-hour delay during which more than 100 extras threatened to revolt and Corgan, a noted perfectionist, pleaded with Dom and Nic to scrap the variable speed element to spare everyone's sanity. The directors managed to talk everyone back on board.

2. Lucas, "Lucas With The Lid Off" (1994, director Michel Gondry)
3. Massive Attack, "Protection" (1995, director Michel Gondry)
By 1993, Michel Gondry had five years' worth of music video credits for French indie artists, and he had just gotten his big break from Björk, whose "Human Behaviour" clip marked the beginning of their lengthy artistic partnership. But Gondry's career took off the following year, during which he directed two of the clips that came to define his signature style. Massive Attack's "Protection" and Lucas' "Lucas With The Lid Off" established Gondry's one-shot dominance, with both clips relying on ornately constructed sets that create the illusion of broader worlds beyond the frame. The Lucas clip makes the one-hit-wonder the star of an M.C. Escher-inspired talkie, while the Massive Attack clip tours a surreal apartment building. In an interview, Massive Attack's Robert "3-D"' Del Naja called the nearly seven-minute video the "most agonizing" shoot of the band's career and the origin of his back problems. Del Naja said the band couldn't even grasp the concept until Gondry showed them a model of the set built out of Legos. "You couldn't storyboard it," he said. "Without the model, you couldn't understand how it would work."
4. Taylor Swift, "We Are Never Ever Getting Back Together" (2012, director Declan Whitebloom)
Director Declan Whitebloom's third collaboration with Taylor Swift is their most ambitious, and it borrows liberally from the Michel Gondry playbook. The playful clip takes place within five nested sets, with Swift darting from room to room as a band of furries jumps into the frame at just the right moment. The furries serve an important role, pulling focus from Swift as she goes through five quick wardrobe changes. According to an interview with Whitebloom, Swift was supposed to make the costume changes in designated hidden areas in the set called "car washes," but she opted not to use them. "She just changed on the fly while everything else was moving," the director said. "Taylor literally would run. There would be a person on each arm and each leg putting stuff onto her." Though the "Never Ever" clip doesn't break new ground conceptually, it does have one superlative going for it: It was the first music video shot in 4K resolution.

5. R.E.M., "Imitation Of Life" (2001, director Garth Jennings)
As one-shots have evolved, directors have made more use of tricks like speeding up or reversing the raw footage to accomplish the desired effect. For R.E.M.'s "Imitation Of Life," director Garth Jennings followed that trend to its logical conclusion, squeezing a nearly four-minute clip out of just 20 seconds of video. Jennings pointed a dozen Super 8 cameras at history's most chaotic pool party, and the clip is the same Vine-size chunk of video played forward and in reverse as Jennings digitally zooms into several domestic incidents. Considering how much goes down in the clip—a beverage thrown in a guest's face, a man on fire, a fateful kiss—it's mind blowing to consider it all took place in a mere 20 seconds. Adding to the degree of difficulty, Jennings had many of the extras lip synch different sections of the song so there's a performance element in each zoomed-in scene. "Imitation" is such a remarkable clip, it has inspired several film enthusiasts to try reconstructing the original nugget of footage.
6. Death Cab For Cutie, "You Are A Tourist" (2011, director Tim Nackashi)
Artists and directors who collaborate on one-shots love to raise the bar for the subgenre, and for good reason. As much planning and problem solving as one-shots require, why go to the trouble just to maintain the status quo? Death Cab For Cutie's contribution to the one-shot one-upmanship is 2011's "You Are A Tourist," a one-shot that puts the band at the center of a colorful, Busby Berkeley-style dance number. The clip was difficult enough with the complex geometric choreography, but Death Cab and Tim Nackashi challenged themselves to make "Tourist" a truly one-shot clip. The video was shot live and streamed for fans online. Most one-shots are filmed live-to-tape, in the hopes of getting it perfect in one go to avoid the costly process of resetting the stage. Death Cab did their trapeze routine without a safety net in place.
7. Kylie Minogue, "Come Into My World" (2002, director Michel Gondry)
Massive Attack's struggle to understand Michel Gondry's kaleidoscopic mind as he tried to explain the "Protection" video to them is easier to understand after watching Gondry explain his concept for Kylie Minogue's "Come Into My World." In I've Been Twelve Forever, a documentary about Gondry's work, he does his best to diagram the plan to have Minogue circle a Parisian intersection during the song's verses, then spawn a clone of herself at each of the choruses until there is a quartet of Minogues. But even with the drawing it's hard to imagine what Gondry is up to before actually seeing the stellar clip, which was accomplished using a motion control camera to capture Minogue's continuous trips around the intersection. As the camera follows Minogue, the extras also multiply with each pass, raising the degree of difficulty since the multiples had to rush to their marks at precise moments. Gondry takes full advantage of the symmetry of the circular shots, deploying similar tricks to those he would later use in Eternal Sunshine Of The Spotless Mind.
8. Michael Penn, "Try" (1997, director Paul Thomas Anderson)
Paul Thomas Anderson couldn't have pulled off Magnolia's legendary two-minute tracking shot without a considerable amount of practice. While Anderson was in the process of editing Boogie Nights (which boasts its own elegant long take) he took a weekend off to direct Michael Penn's "Try." Anderson takes full advantage of the location, a quarter-mile long hallway in a former freight depot since converted into an architecture school. Penn hurtles down the hallway, thought to be one of the longest in North America, alternating between a harried gait and rides on a crew-powered cart. "Try" is full of dutiful crew members, one of them played by the late Philip Seymour Hoffman in one of his many collaborations with Anderson. According to Penn, the director ordered 14 grueling takes. At first, they didn't succeed.

9. Cibo Matto, "Sugar Water" (1996, director Michel Gondry)
Michel Gondry's obsession with symmetry led him to imagine Cibo Matto's "Sugar Water" as a sonic palindrome and conceptualize a video to match it. The clip divides Yuka Honda and Miho Hatori with a split-screen, one half of which is playing forward while the other half plays in reverse. Honda and Hatori come together at a fateful moment, after which they swap sides and directions, creating a clip that looks the same played in either direction. Executing "Sugar Water" required a meticulously planned routine synched to the time code, which Gondry accomplished using recorded cues for the women to practice. Recalls Honda in Twelve Forever: "He made this tape with the music with his direction: 'Wake up now,' 'Open the window now,' 'Go to the shower now,' 'Take the shower.'" The final part of the sequence—in which Honda and Hatori scrawl the song title in halves on a window—proved the most difficult. Hatori kept writing the letters in the wrong direction, and it wasn't done flawlessly until around the 10th take.
10. OK Go, "The Writing's On The Wall" (2014, directors Damian Kulash, Aaron Duffy, and Bob Partington)
The members of OK Go made themselves viral-video legends in 2006 with "Here It Goes Again," a one-shot focused on the band's creative treadmill-assisted choreography. That one-shot was impressive enough that many artists wouldn't have attempted to best it, but OK Go has tried to top itself with each new clip. (They almost hit their one-shot apex with 2010's "This Too Shall Pass," which features a continuous shot of an elaborate Rube Goldberg device, but includes a few barely perceptible cuts in the final version.) If complexity is the standard, "The Writing's On The Wall" is easily the band's most successful clip yet. The clip is directed by OK Go frontman Damian Kulash, who, along with co-directors Aaron Duffy and Bob Partington, spent two months planning the video using computer-generated models before production began. All the planning shows in the final product, which tours a set filled with practically accomplished visual effects. As if the clip weren't complex enough, the band did much of the camera work, resulting in a routine so elaborate, the band only completed the full take 18 of the 60 times they ran through it.