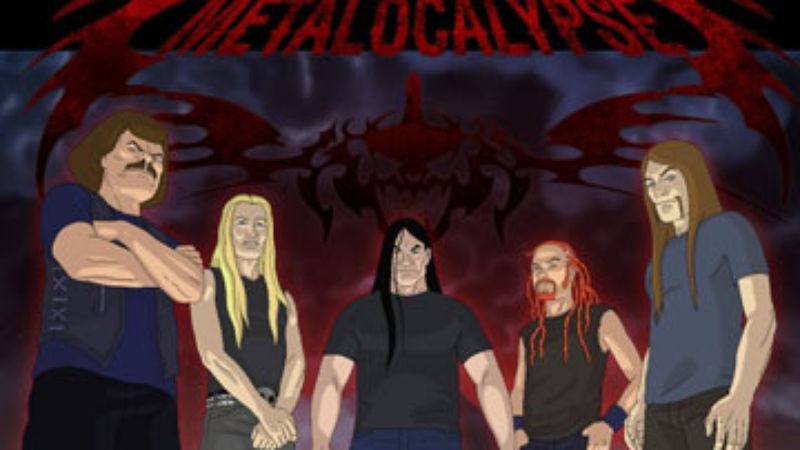 Dethklok, Adult Swim's most brutal metal band—and star of the consistently hilarious Metalocalypse—burst into the real world last year with Dethalbum, which debuted higher on the Billboard charts than anyone expected a cartoon band's album to debut. It's gone on to become the best-selling death-metal album of all time, and the band—such as it is—is in the midst of a tour behind it. Singer-guitarist/co-creator Brendon Small and a band of metal ringers are playing the band's songs in front of cartoon projections—smashing the real world together with fantasy (as the best metal always does). Dethklok singer Nathan Explosion took time out from the band's busy tour schedule to send us this report from the road, put together shortly after a San Francisco show was cancelled due to an electrical fire. We're hoping for more installments as the Dethklok tour progresses. Tour dates after the diary…
The dethbus is run by a combination of coal, gas, wood, bald eagles and a few other endangered species and financially that's killing us. Offdensen (our manager) has been trying to get us to "go green" and is looking into hybrid engines. Pickles offered that we just paint the fuel green, which I think is a pretty good idea though not helpful. Pickles you kick ass sometimes…
So we did a show at the Fillmore in San Francisco and yes there was a small electrical fire which we of course are used to. But because the audience hadn't gotten finished with their "Pain Waiver" paperwork we had to evacuate the venue. They were pretty fucking disappointed. And we nearly felt bad about it but—we basically saved their lives. I mean we're heroes. We sat in the bus during the show cancellation riots and congratulated ourselves for keeping our audience safe. At that moment Skwisgaar looked out the window and saw the fans trampling on each other, and then a big guy got thrown into traffic and pretty much exploded upon impact of an oncoming garbage truck. We all giggled.
A few days later we went back to the Fillmore and had what we're calling "the show of the tour" it was pretty fucking great! We really are heroes! First we save their lives and then we COME BACK and do the show of the tour? I just reread that last sentence and I teared up a little thinking about how great my band is… But only a few people have died at that show, I mean—I want to feel bad—but then I think, "That must be what they wanted," and again I get that warm feeling again.
Remind me later and I'll tell you about the groupies who took a ride in our private jet. Pickles was flying and he kept trying to hit the atmosphere (Murderface bet him five hundred thousand dollars that he couldn't do it), and he nearly got there until one of the ladies' fake tits exploded because of the pressure. Boy what a mess! Saline splattered everywhere! All over the windows, the pizza was ruined (kind of) but seriously, soooooo funny I shot beer through my nose… Fuck, I love the road.
Nathan Explosion
6/17: Clutch Cargo, Pontiac MI
6/19: House Of Blues, Cleveland OH
6/20: Kool Haus, Toronto ON
6/21: MTL Festival, Montreal QC
6/22: Town Hall, Buffalo NY
6/24: The Palladium, Worcester MA
6/25: Nokia Theatre, New York NY
6/26: Ram's Head, Baltimore MD
6/27: Fillmore, Philadelphia PA
6/29: House Of Blues, Myrtle Beach SC 6/30: Hard Rock Live, Orlando FL
7/1: Jannus Landing, St. Petersburg FL
7/2: The Tabernacle, Atlanta GA
7/4: Meridian, Houston TX
7/5: House Of Blues, Dallas TX
7/6: La Zona Rosa, Austin TX