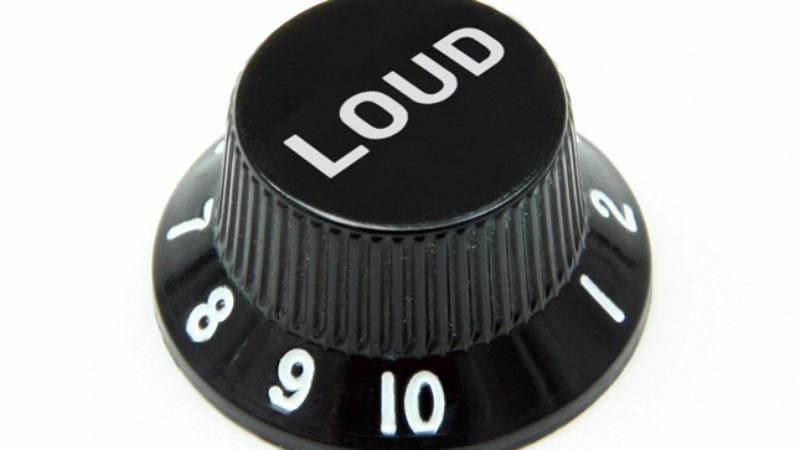 Punk, hardcore, metal, noise, crust, drone, sludge: Music isn't always easy on the ears. Each month, Loud unearths some of the loudest, crudest, and/or heaviest sounds writhing beneath the surface. The world isn't getting any quieter. Neither should we.
Hello and welcome to the first installment of Loud, The A.V. Club's monthly look at the harder, harsher, heavier end of the sonic spectrum. As with any such column, the coverage herein will be dictated by its author's preferences and prejudices—so allow me to drop a little personal background. I've been playing in punk bands on and off for almost 20 years. During that time, I've also been involved in the scene as a zinester, a blogger, a cartoonist, an album cover artist, a DIY show promoter, and a buyer at an independent record store. I got into punk when I was in high school via bands like The Clash, Black Flag, Joy Division, and The Exploited. No matter where my tastes wound up wandering from there, loud music in all its forms has always remained my home.
Since I became the dumb-luckiest dude in the world and began writing for The A.V. Club in 2006, I've tried to smuggle my questionable taste in loud music into the reviews and features as much as possible. And the A.V. Club editors—some of whom have backgrounds in the punk scene themselves—have graciously indulged me. That said, there's only so much room on the main page each week for music coverage, and The A.V. Club's strength has always been its diversity. Hence this column.
So what exactly will Loud encompass? Punk and hardcore, in all their permutations, are my primary stomping grounds, so lots of that. But I also love metal (and, yes, metalcore), post-hardcore, stoner rock, and pretty much all things sludgy, crusty, noisy, doomy, droning, grinding, and loud. Subgenres like emo, screamo, and pop-punk—once thought irreparably gutted by the mainstream—have been enjoying an underground resurgence lately, and that makes me very happy. I want Loud to crank up loud music of all varieties in an effort to complement the excellent, eclectic music coverage in The A.V. Club's review section (to which I'll still be contributing). After all, humans cannot live on screams and distortion alone. Not that there's anything wrong with trying.
One last note before we jump into this month's good stuff: Loud is very much a work in progress. I'd love to hear your thoughts about what's working, what's sucking, or what bands you'd rather be reading about. By all means, clue me in, and I'll endeavor to return the favor. With the amount of space available each month—not to mention the breadth of stuff I'll be tackling—there's no way to make Loud a comprehensive rundown of, well, anything. Instead, I'll try to spotlight a handful of new releases, both large and small, and give our lovely readers a chance to chat about not-so-lovely music. So if you want to see continued coverage of heavy, noisy sounds on The A.V. Club, kindly let us know. Now: Let's rock.
Calling Lemmy a force of nature is way off the mark. There's nothing remotely natural about the guy. Thirty-five years into his reign as the iconic frontman of Motörhead, Lemmy Kilmister is a nasty, haggard, yet somehow ageless sonofabitch whose new album, The Wörld Is Yours, is another welt-raising addition to Motörhead's lengthy catalog. The first single, "Get Back In Line," is a perfect example of why the band has long been the great unifier of metal and punk: As hoarse and blasphemous as ever, Lemmy grunts lines like "If you think Jesus saves / get back in line" while Phil Campbell pumps out yet another double fistful of raw, bluesy licks. In addition to the respectably disrespectable The Wörld Is Yours, the new documentary Lemmy promises to probe the man's timeless toughness and single-minded pursuit of dumb, demolishing riffs. Calling an old rocker a fossil is supposed to be an insult, but Lemmy wears his crusty, ossified decrepitude as if it were a battle-scarred suit of armor.
Speaking of metal-on-punk: Hearing Cave In's epochal Until Your Heart Stops when it came out in 1998 is one of those personal turning points in my evolution as a guy who likes loud shit. Before moving on to a start-stop career that's incorporated everything from psychedelic prog to post-grunge arena rock, the Boston-area outfit took the nascent metalcore of friends and neighbors Converge—already an established force by that point—into some truly sick, complex, and cosmic territory. "Inflatable Dream" is one of the songs Cave In wrote and recorded in the late '90s as the ever-restless group was transitioning out of the Until Your Heart Stops era—but it remained unreleased until Hydra Head's recent rarities roundup, Anomalies Vol. 1 (unleashed, confusingly enough, months after the live album Anomalies Vol. 2). Besides the exhumed originals like "Inflatable Dream," Vol. 1 sports covers of Black Sabbath, The Cure, Bad Brains, and most interestingly, a version of "Cave In," the song by slow-core legend Codeine that inspired the band's name. Second perhaps only to Botch when it comes to bands who used electronics, dynamics, technical agility, and merciless deconstruction to rewrite the hardcore playbook circa the turn of the millennium, Cave In appears to be back in the saddle for the time being; here's hoping the band will deliver its upcoming full-length, White Silence, sooner rather than later in 2011.
As for the next generation of Boston brutality, don't fret; the flag is being ably carried by The Carrier. The quintet's second and latest full-length, Blind To What Is Right, picks up where its 2007 debut, One Year Later, left off. But where the first disc is a murky (though admirable) stab at igniting fresh chaos and belligerence under the ass of post-hardcore, Blind simply scorches. As heavy and bloody as a sleeping bag full of raw meat, the album is already a contender for my best-of-2011 list. (Yeah, I start thinking about that stuff in goddamn January—occupational hazard.) And it's on Deathwish, so you know it has the Jake Bannon seal of approval, even if it is way looser, scratchier, and messier than anything Converge (bless its heart) has recorded in a long, long time. If these guys like math, they don't show it; there are buildups, breakdowns, and gnarly guitar interplay, true, but this is four-on-the-floor, too-fucked-up-to-fuck-around nastiness.
About 10 years ago, I picked up one of those Killed By Death-inspired records that collected various rare punk 7-inches on a single bootleg LP. The main reason I grabbed it was because it included a song by DV8, an amazing, early-'80s Chicago band that featured drummer Eric Spicer, who later went on to play in Naked Raygun (as well as on the first single by Pailhead, the legendarily weird collaboration between Fugazi's Ian MacKaye and Ministry's Al Jourgensen). That album, though, offered an even rarer treat: a song by a band called Death (not to be confused, not that anyone would, with the Floridian death-metal pioneer), which the record's liner notes briefly described as a trio of African-American siblings from Detroit who released one 7-inch of searing, hard-rocking proto-punk in 1976 before retreating into the mists of obscurity. In 2009, Death got a much larger shot of exposure when Drag City released …For The Whole World To See, a fantastic collection of the band's infamous 1975 recording session, which was funded by, of all people, Clive Davis. The world took notice, and Death even briefly reformed—and now, Drag City has released another batch of Death fossils under the title Spiritual Mental Physical. The 10-track release isn't nearly as essential as For The Whole World—rather then studio recordings, these are reel-to-reel demos, including some loose jams and aimless instrumentals. But there are a solid five songs of pure, primal, ahead-of-its-time punk rock. It's lazy to compare Death to another groundbreaking African-American punk band, Bad Brains, but at the same time, Spiritual tracks like the ripping, lo-fi "Views" could almost pass for an outtake from Bad Brains' famed 1979 Black Dots session. There isn't any YouTube for the new stuff, but here's a stream for "Views"; more can be heard on Drag City's site.
Who better to make a shitty rock album than Seth Putnam? The court jester of grindcore is touting his latest Anal Cunt full-length, Fuckin' A, as a study in dick-swinging metal. In a sense, that's pretty accurate: The album is a mid-tempo, riff-slathered, shout-along basement party full of stupidly sloppy lead-work, with Putnam's signature screech sounding almost melodic (for him, anyway). As usual, Anal Cunt slaughters what it loves and moshes in its intestines; in this case, the result winds up sounding more like vintage Meatmen or SSD's How We Rock than anything else. Putnam has promised a more traditionally grinding AxCx album later this year, although it's strange he didn't just release Fuckin' A as a one-off side-project, which is more his style. In the meantime, leave it to Anal Cunt to inject new meaning into the term "butt rock."
Getting a hold of a copy of Salvation's Mortality Interactions LP has been about as easy as, well, getting a hold of any of Youth Attack!'s limited releases. But even as the album's second pressing flew out the door, YA's Mark McCoy recently posted a video for the album's bludgeoning lead track, "Lapse Infinitum." It's pretty much what you'd expect: grim and grimmer, with a grainy, oppressive atmosphere that fits the song to a T. Mortality is the Philly band's second full-length, a minimalistic, animalistic frenzy of unrestrained loathing (self- and otherwise). Lucky New Yorkers got the chance to see Salvation open for the mighty, reformed Universal Order Of Armageddon at Death By Audio in Brooklyn on Jan. 22. Me, I was stuck in Denver watching YouTube. Look upon Matt Adis and crew's bloodcurdling shitstorm, ye mighty, and despair.
One thing you ought to know about me: I love emo and pop-punk. Granted, many sins against humanity have been perpetrated in the name of those two genres in recent years, but the fact remains that, at least in their respective '90s heydays, emo and pop-punk produced some truly amazing scenes and sounds. I wouldn't go so far as to call Lemuria's latest album, Pebble, a throwback to that era—but it definitely captures some of that ragged, go-for-broke spirit. Picking up where bands like Rainer Maria and Discount left off, the female-fronted trio was recently picked up by hardcore label Bridge Nine, which makes a certain amount of sense; although the band doesn't play hardcore, Pebble has a hint of post-hardcore mathiness and heaviness, even when it's carrying bittersweet, cleverly spun tales of heartbreak. And the powerful production by Jawbox's J. Robbins doesn't hurt. Some tough guys out there might dismiss this as indie rock, but to me, Pebble isn't just Lemuria's best album to date—it's a breath of fresh air in a scene still wallowing in the dregs of youth-crew revivals and metalcore. Yes, there's a xylophone in it. Please don't hold that against 'em.
Next month: We'll be plowing through, among other things, Earth's new opus, the long-awaited debut by Drugs Of Faith, a fresh slab of Crowbar, and the deluxe reissue of Neurosis' epochal Souls At Zero.