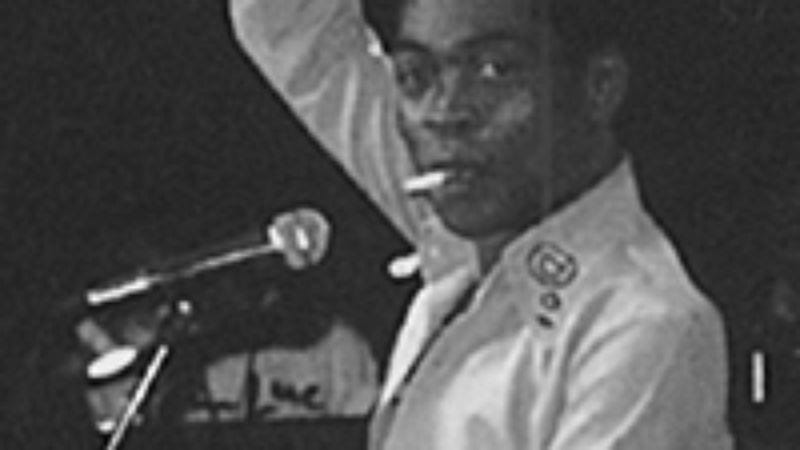 From the communicative tribal drumming of American Indians and Africans to the rigid 120 bpm marches devised by John Philip Sousa through Duke Ellington's big-band swing, rhythmic music has long been embraced for its unifying properties. With the beat as guidance, the body is freed up to express itself in countless ways: dancing, sleeping, running, rioting. George Clinton's Funkadelic mantra, "Free your mind and your ass will follow," signified both political intent and plain old hedonism–assuming, of course, that hedonism is not inherently political, (though disco sure proved otherwise).
Clinton's neo-political funk owes a great deal to the godfather of 20th-century rhythmic ingenuity, James Brown. By stripping pop music down to its barest essentials–minimalist chicken-scratch vamps–Brown brought the power of dance music to heights that still haven't been fully explored. From funk to disco to house to techno to rap, Brown laid the foundation. With such an irresistible sense of rhythm, his music captured the attention of ever-fickle youth, and with a captive audience at hand, he was able to use his music as a political platform. "Say it loud, I'm black and I'm proud" was a message slipped amidst Brown's many funky workouts, and his fans listened because they were already there, dancing. It's pop music's bait-and-switch.
Americans weren't the only ones listening to Brown's funky revolution. Nigeria's Fela Ransome-Kuti also owed a lot to the Godfather Of Soul, though his hybrid music was of his own devising. Inspired in part by the Black Nationalist movement sweeping through America in the late '60s, Kuti steadily moved his music in a more explicitly political direction. While his cries for justice and tirades against hypocrisy barely registered in America, the music–which he dubbed "Afro-Beat"–transformed Kuti into a true folk hero in his native Nigeria. He began to taunt Nigeria's corrupt and incompetent government and military, at one point even fencing in his house and declaring it an independent state. He eventually changed his name from Ransome-Kuti to Anikulapo-Kuti, which means, "he who carries death in his pouch." He was frequently arrested and beaten: One crackdown on his compound ended with his mother being thrown out a window, an act which eventually led to her death.
The funeral of Kuti's mother is depicted on the cover of Coffin For Head Of State/Unknown Soldier, one of several excellent new two-for-one reissues released by Universal-France. His album covers, with colorful collages reminiscent of Pedro Bell's famous Funkadelic art, immediately announce the political bent of the music. Original Sufferhead/I.T.T. features a black giant carrying a jug of water (which reads, "For Sale Only") and a tub marked UNESCO AID looming over hundreds of humanoid specks. Meanwhile, the land is divided up and marked with slogans ("No Home," "No Job") or stated symbols of colonialist greed (gold, zinc, modern slavery), while a giant canister pours not oil but blood.
Listening to the music of Kuti and his band Afrika 70, you might not immediately get the political vibe implied by the striking covers. His extremely long vamps—when originally released, each song often took up the length of an album side, to be continued on the flip—are so astoundingly funky that even his forceful singing sometimes gets lost among the percolating instruments, his own electric piano and saxophone included. But these key reissues also include Kuti's lyrics, indignant, unambiguous accusations often sung in pidgin and English. Listening to his music (and there's a lot to hear) it's easy to eventually move beyond the beat and closer to the passionate and compassionate messages. For Kuti, the sheer length of his songs is the snare that captures his audience.
Fela Anikulapo-Kuti died in 1997, ironically not from an act of violence, but of AIDS: Stubbornly promiscuous, he had had at least 27 wives, and the cover of Shakara/London Scene even shows him, lying in his underwear, surrounded by dozens of topless women. But this current wave of reissues is reminding the world just how powerful a force Kuti was, and just how much his music—like James Brown's before him—has informed the music of others. Watching the recently reissued Talking Heads tour document Stop Making Sense, for instance, it's easy to imagine the band's relatively small stage entourage taking its cues from Kuti's sprawling sets.
In fact, David Byrne was one of many people who turned out on a Wednesday night in New York City to see Kuti's son, Femi Kuti, perform at the opening-night party of the annual CMJ Music Marathon Sept. 15. In a weak year for new-music showcases, the prospect of watching the son of a legend on stage with his own 16-piece Afro-Beat orchestra was a rare and welcome opportunity. At the very least, the timing of his unveiling was auspicious, coming so soon after the resurgence of his father's music, and the notion of importing such a large band alone inspired more excitement than the usual collection of DJs and indie-rockers gathered in New York to… what? Get a record deal? Show off that they can play their instruments? Just hang out?
After performances by the soulless German outfit To Rococo Rot and turntablist Cut Chemist (who was too abstract to truly be funky), the night's MC, Carl Hancock Rux, introduced Femi to a crowd of mostly college-age Music Marathon attendees. It's impossible to tell just how many of them had heard of Femi, or even his father, but to its credit the crowd quickly embraced Fela's legacy. From the start, it was clear that Femi isn't quite as interested in revolution as his father was: The music was certainly energetic, but Femi and his band seemed slightly more interested in entertaining than in educating. But in a sense, wasn't the performance itself an education?
As Rux would ask after the hour-long performance, "Do you like those beats? Then how come you don't hear that on the radio?" Even the moments of relatively rote Afro-pop kept the crowd moving and cheering, as Femi, between static blasts of his alto sax, borrowed a habit from hip hop and admonished the kids in the audience to move their hands "like this!," waving them from side to side. As a bandleader, Femi was impeccable, and his group of horn players, percussionists, keyboardists, guitarists, back-up singers, and dancers was tight as can be, a virtue once the songs started to stretch to nearly trance-inducing lengths. Femi seemed to understand that this night was a time to party, not preach. It remains to be seen what his domestic studio debut will reveal when it's released early next year, but it probably won't be boring.
A quieter but more interesting reminder of Fela's rhythmic prowess has come in the form of former Afrika 70 drummer Tony Allen, whose solo album Black Voices was recently released on the French Comet label. Like the funky drummers who played with James Brown, swung with Ellington, or pounded out beats thousands of years ago, Allen was the glue that for a time held Fela's music together. Yet unlike Femi Kuti, Allen has made a concentrated effort to advance the music made by his former bandleader. Black Voices features the drummer's trademark jazz-funk beats, but the project is overseen by one Doctor L., who deconstructs the hypnotic rhythms and transforms them into something even trippier. As the drums slap and echo, P-Funk alumni Mike "Clip" Payne and Gary "Mudbone" Cooper and just a few other musicians expand upon the minimal beats with a tense economy. Like George Clinton, Allen isn't much of a singer, but his deep voice resonates as much as Payne's flowing bass lines. As for the message, it's hard to say: No lyric sheet is included, and it's tough to discern just what Allen is singing, not to mention what language he's singing in.
Clinton said, "Free your mind and your ass will follow," but he could have just as easily have meant, "Free your ass and your mind will follow." Allen's music is pure funk, so what he says isn't quite as important as how he says it. But give yourself up to his spare rhythms, and a message slowly and subtly emerges from the mix: Music is too powerful to let stagnate, so even when you're at a loss for words, keep the music moving and the rest will follow.