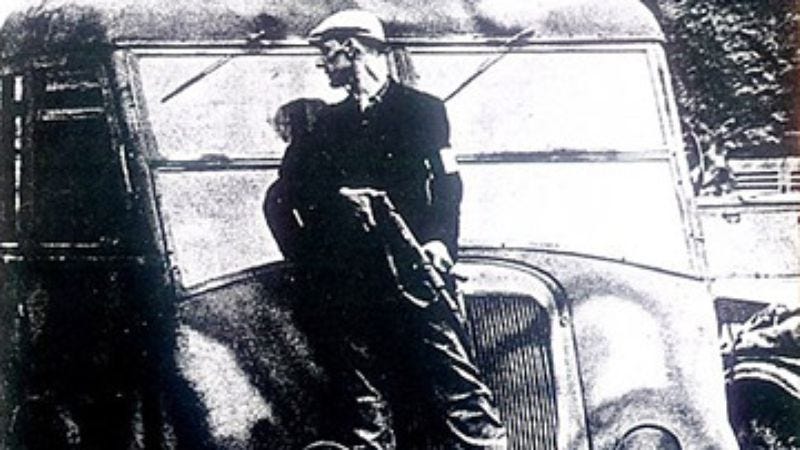 J Church
Camels, Spilled Corona And The Sound Of Mariachi Bands
(Broken Rekids)
The context: J Church was only a few years old when it followed its debut full-length, Quetzalcoatl, with the 1994 singles collection, Camels, Spilled Corona And The Sound Of Mariachi Bands. Singer-guitarist Lance Hahn could crank out thoughtful, poppy punk gems faster than his band or record labels could keep up, a trait he maintained until his death in October 2007. (J Church released three other singles compilations, seven full-lengths, nine "miscellaneous" full-lengths, and two split albums over 16 years.) Originally scheduled for release before Quetzalcoatl, Sound Of Mariachi Bands was delayed by label problems, but it eventually outshone Quetzalcoatl. It became one of J Church's best-selling releases (if not the best), and spawned some classic songs, such as "Bomb," a staple of the band's live set.
The greatness: Nirvana and Nevermind get credit for blowing the doors off alternative rock—and thus punk—in 1991, but the punk signing frenzy didn't reach fever pitch until the 1994 release of Green Day's Dookie. The effect was practically seismic in the Bay Area, home to Green Day and J Church (not to mention Jawbreaker and Samiam, among others), as major labels swooped in to find their next payday. The madness had yet to begin when Camels' songs were written, so the album acts as a snapshot of the village before the tidal wave wiped it out. Hahn and company never wrote mercenary cash-in songs, but the gold-rush feeling of the time affected everyone. Regardless, Camels captures all the best elements of J Church's style: cerebral pop-punk ( "Bomb," "Girl In A Magazine"), slow-burning laments ("Sacrifice"), sociopolitical analysis ("Commodity"), and Hahn's specialty, character studies ("Kathi," "Katrina And Paul," "Sound Of Mariachi Bands"). The utilitarian production strips the songs to their basic elements, but they succeed because Hahn was a clever songwriter with a knack for hooks. J Church never released an overproduced album—or, for that matter, a really well-produced album, which would have been nice.
Defining song: "Bomb," perhaps the catchiest song ever written about terrorism. "A briefcase aimed against the bourgeois state" lies in a department store. Hahn paints a quick portrait of a the victims—a businessman, a woman on a pay phone—but spends the most time on the bomber. Wearing a suit and tie so he doesn't arouse suspicion, he's a 21-year-old kid whose idealism has turned him against his own people. Punctuating the lyrics is a three-chord progression (using the same notes, in different order, as the Ramones' "Blitzkrieg Bop"), which sounds almost triumphant after Hahn sings, "No chance, no way, they will not escape / 'cause from the minute you're born you're told what to do / and I think that seems a good enough excuse / so what do you do when you can't take it no more? / Conceal a time bomb in the heart of a department store."