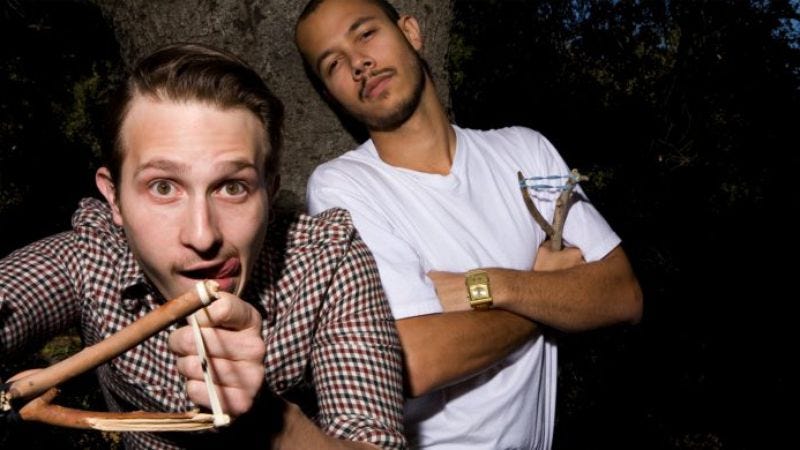 Bringing raver flavor back without the glow sticks and bunk ecstasy, Chicago DJ duo Flosstradamus has successfully injected trance back into the musical consciousness by cleverly hiding once-passé, high-energy tracks under some of crunk's greatest hits. On their way up the ladder, Josh Young (a.k.a. J2K ) and Curt Cameruci (a.k.a. Autobot) helped put Chicago back on the map as a viable place for dance music while giving a hand to Young's sibling Kid Sister, the rapper whose "Pro Nails" sports a guest spot from Kanye West. On the heels of what could be considered Flosstradamus' first full-length album, Are You In?—a 45-minute mix of brand new De La Soul tracks for Nike—the twosome will spin at Beta tonight. While it may be illegal in some states to drive while talking on the phone, Young took a few minutes to do so with Decider anyway.
Decider: How well did you and Curt know each other before coming together as Flosstradamus?
Josh Young: Curt and I had both been DJing since we were younger gentleman, and he moved to Chicago when he was 18 to go to school. I grew up here and moved to the city around the same time. A mutual friend of ours noticed that we were DJing a similar style of music and knew I was trying to partner up with somebody. So the friend was like, "Hey! You have to meet Curt!" And I did, and we became best friends. Curt's girlfriend at the time was working at a little deadhead bar called the Town Hall Pub, and the owner was crazy enough to let Flosstradamus do a Wednesday night there. We started with this little night, and it became a big thing for Chicago.
D: How did you draw a crowd to a deadhead bar?
JY: That bar on a Wednesday night was just regulars anyway, so we could play whatever. Worst case scenario, it would be the same seven people who were always at the bar getting drunk, and they would be there for us. But we just told our friends and family, and they came out to support us. Then they told their friends, who told their friends, who told their friends. Next thing you know, it was a full-on event.
D: Still, that seems like a weird place for Flosstradamus to blow up.
JY: Yeah! And it was in a gay neighborhood, which was kind of unheard of at the time. I mean, it wasn't a gay bar at all. But the primary partygoers in the neighborhood were gay men from age 16 to infinity. To get the younger crowd to that neighborhood for a night like ours took a little work. But we did it.
D: The environment sounds perfect to get people dancing.
JY: The context is what made it fun. You can go to a big club in Chicago on a Saturday night and hear some of these songs, and it's not a big deal. But when they're taken to a different venue and played on crappy speakers to a bunch of kids who've never heard them before, they take on a different meaning. We like to take things out of context.
D: Do you have any background in the rave scene?
JY: No. Curt used to DJ raves, playing drum and bass. He's a little older than me, and he came up on the rave scene. It's funny—he DJed a rave with Vanilla Ice once. Vanilla Ice went on before Curt and played "Ice Ice Baby" and then tried to perform some other songs, and the crowd basically left. Curt said it was one of the biggest bummers of his life.
D: Your sister, Melissa Young, is rapper Kid Sister. What is it like working with a sibling on a creative level?
JY: It's good, actually. We used to hate each other when we were kids. We were the worst enemies, but I think we got all of the fighting out of the way because now we're best friends. It's really nice. But really, my sister and I are both new to this. We don't have a musical family. Look at, say, Jesse Keeler from MSTRKRFT. Like, okay, that dude's dad was in Steppenwolf! They don't have to work, and they're still well off. But honestly, when Curt and I started doing Flosstradamus we needed someone to MC our parties, and Melissa would be there. She would just grab the mic. From there, she started writing songs. She's a college graduate and I'm not, and our parents were like, "What about real jobs?" But we've gotten to this point where we've both been on MTV independent of each other, so our parents finally got off of our backs. [Laughs.] I'm really proud of her, and creatively, it's nice to have that person to bounce ideas off of.
D: And siblings definitely have a deeper understanding of each other.
JY: It's nice because if you're an artist who's succeeding, your day is filled with people telling you, "You're the shit!" It's hard not to listen to fame. It's nice to have someone like your sister there to say, "You suck. Shut up." It keeps both of us grounded. It keeps it real. [Laughs.]
D: Is there something you and Curt look for when choosing a song for a remix? For instance, you remix Totally Michael's "Casual Satisfaction," but he's not a typical artist to remix.
JY: It depends. Sometimes if it's a bootleg and we get a hold of it, the remix comes from us hearing more potential in a song. Recently, labels have come to us and commissioned a remix of a track. We did a remix of Matt And Kim's "Yeah Yeah" for [the label] IHEARTCOMIX, so the Totally Michael song was a follow-up for them. Totally, Michael is really high energy, very jokey, and very tongue in cheek. I mean, he's saying, "You make my dick erect, my dick erect. You make my pussy wet, my pussy wet." It's very chant-y, very club-like. Juke music or Chicago juke, which is a Chicago style of club music, is what we referenced in that remix. Juke is all about hypersexual chants.
D: What is juke music exactly?
JY: Juke is a really fast-paced form of house music. The drum structure is a little different. The tempo is way faster. A lot of the time there's a vocal sample on the track that's very sexual. Like, "I'll juke that girl from the back." Juking is a verb. So you could say, "I juked that girl" or, "That girl juked it." It means a girl is shaking her butt on your general midsection. [Laughs.] I'm trying to break this down, and as a result, I'm sounding like a square. I forget which comedian it was, maybe Chris Rock, but he said that white girls in the club just want to be screamed at. They want someone on the record to yell at them and tell them what to do, and as long as that goes down then everything is fantastic. We live by that, honestly. Not even in the club. I live my life by that. [Laughs.]
D: You just scream at girls walking down the street.
JY: Any white girl I see walking down the street, I just scream at her. [Laughs.]
D: And she's really into that?
JY: I mean, I do pretty well. [Laughs.] I'm not going to lie.