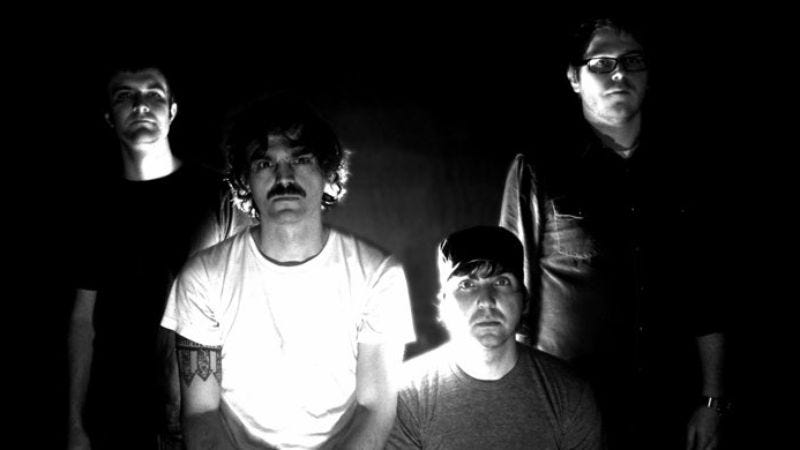 Following the 2009 death of Maserati drummer Jerry Fuchs, Fuchs' former bandmates received an outpouring of support and condolences from friends, fans, and fellow musicians worldwide. One such musician was German guitarist Günter Schickert, whose decades of six-string innovation have informed Maserati's own echoing, densely patterned playing. Schickert eventually ended up opening for Maserati during a European tour this past March. Before returning to the States to begin a tour which includes an April 25 show at the Empty Bottle, Maserati guitarist Matt Cherry spoke with The A.V. Club about a few of the elder statesmen and contemporaries he's had the pleasure of meeting on recent tours, and where curious listeners can begin exploring some of Maserati's biggest influences.
The A.V. Club: You did most of this European tour with Günter Schickert, so let's start with him. What was the experience like for you?
Matt Cherry: Not too many people really know who he is, but he's in the same sort of circles as Klaus Schulze and Kraftwerk and Tangerine Dream. He's spent 30 years perfecting what we've only spent a fraction of that time trying to do. He's a master of the echo guitar, so we're salivating every time he plays. He's 64, but it's funny, because he can party harder than us. And he always tries to pick up the heaviest amp—which is hilarious—and tells us that the guitars need to be louder.
AVC: What other guitarists have informed that style?
MC: We've been a band for 12 years, and when we first started, we were all in our early 20s. We were listening to the first wave of instrumental music that was coming out in the late '90s, like Mogwai and Tortoise, and some of the stuff that was on the Touch And Go label. We used echo at first as an effect, but midway through playing, we started discovering all these German guys who did this stuff back in the '70s, including Gunther, but also Manuel Göttsching. He was really a master of using echo as a thing to embellish what you're playing, to the point where it almost sounds like it's not a guitar anymore. When we heard Manuel's stuff—we probably started getting into that stuff seven or eight years ago—we embraced it full-force and said, "Let's take it further."
AVC: Göttsching's interesting, because you can hear his influence on Maserati records, but also in things like Aphex Twin.
MC: Some people call him the inventor of techno, because he did this album E2-E4 in 1980. [The record was actually recorded in 1981—ed.]  It's just synthesizers. What was really crazy on this tour is on the very first night of the tour, he came to our show, and we met him and hung out with him. I was very star-struck.
AVC: What's a good starting point for people who want to explore Schickert or Göttsching?
MC: One is Inventions For Electric Guitar, because that one is very much Manuel layering echo guitars in different octaves, to the point where some of it almost even sounds like a drum, very percussive. We borrowed the name for a record we did a few years ago, called Inventions For The New Season. When I met Manuel, the only thing I could think to tell him was, "Thanks for letting us steal your ideas." And he laughed and said he thought it was flattering, which was very much a relief to me, because I didn't know how he would feel about that. The Günter Schickert record I really like is called Überfällig. That one is darker, a little creepier, but it's very good nonetheless. Those are the ones on the tip of my tongue, I guess.
AVC: You've got a lot more synth than before on Pyramid Of The Sun. How did that end up happening?
MC: We were starting to listen a lot more to electronic music, certainly the electronic pioneers like Kraftwerk and Tangerine Dream, Ash Ra Tempel, Klaus Schulze, and Michael Hoenig, Jean-Michel Jarre. We've also started listening to dance music more—a lot of the stuff that's coming out of that German label Kompakt Records, like that band The Field, and there's this Brazilian guy named Gui Boratto. We also made friends with other bands at the time who were using synthesizers. This band Zombi that we're friends with, we became enamored of them. When we were doing the record, Steve Moore, who's the synth player in Zombi, collaborated with us on two tracks. They're more of a prog-rock band, coming from the Rush end of things, whereas we're coming more from the Floyd end of things. Their drummer [A.E. Paterra] is playing drums with us now. Definitely a lot of overlap there now.
AVC: Another contemporary that you toured with recently is The Psychic Paramount. How did those shows go?
MC: You know how their new record [II], the first track just starts and it's this blast of volume? They started their show like that every night. I have some really funny videos. I started videotaping the crowd. Everybody's sipping their cocktails and talking, and they're not sure when the band's gonna start. They don't even do a stick-click or anything. They just start, and it's so jarring and it's so loud. You get half the crowd that runs away, and half the crowd that rushes the stage, so there's this hole in the middle.