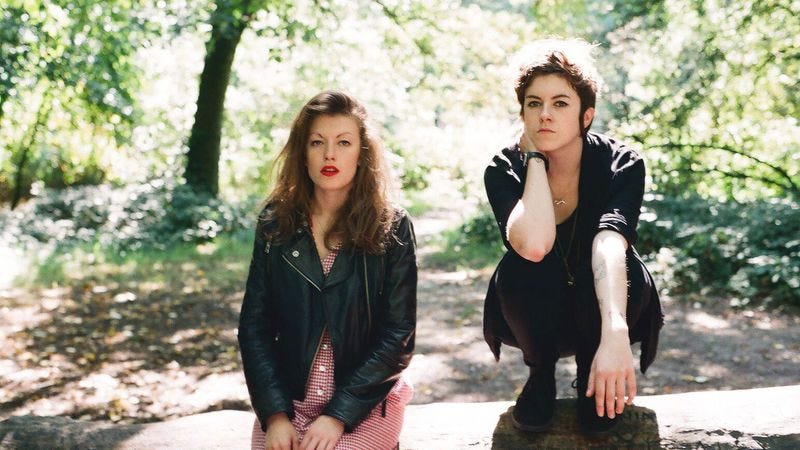 We get a lot of records sent to us here at The A.V. Club, and a lot of it's too good to ignore. In Playlisted, we spotlight new music that's slightly off the beaten path.
Album: 2:54 by 2:54 (out now on Fat Possum)
Press play if you like: Mid-'80s Siouxie & The Banshees; late-'90s Ivy; rubbery bass under shimmery guitar; gloomy dance clubs; rain-streaked neon
Some background: Sisters Colette and Hannah Thurlow make up the core of 2:54, a London guitar-pop band that combines dreamy shimmer with danceable rhythms, calling back to British alt-rock bands from the late 1980s. 2:54's self-titled debut was engineered by Alan Moulder, one of the architects of the shoegaze sound of Curve, Swervedriver, and My Bloody Valentine. It was produced by Rob Ellis, who's worked with the likes of PJ Harvey and Placebo. The result is an album of tightly constructed songs, built around the Thurlows' deep, mesmerizing voices and reverberating guitars. The sisters frequently sound transported, in thrall to the beat and to the vibrations they can make.
Try this: A new addition to the canon of great stalker songs, "You're Early" is a creepy little number from the perspective of a person keeping obsessive track of her crush-object, quietly muttering, "I just wanna be close…" From the muted-but-intense noir-ish tone to the distant whine of the backup vocals, "You're Early" sketches a story and creates an atmosphere of dread in just over four minutes.