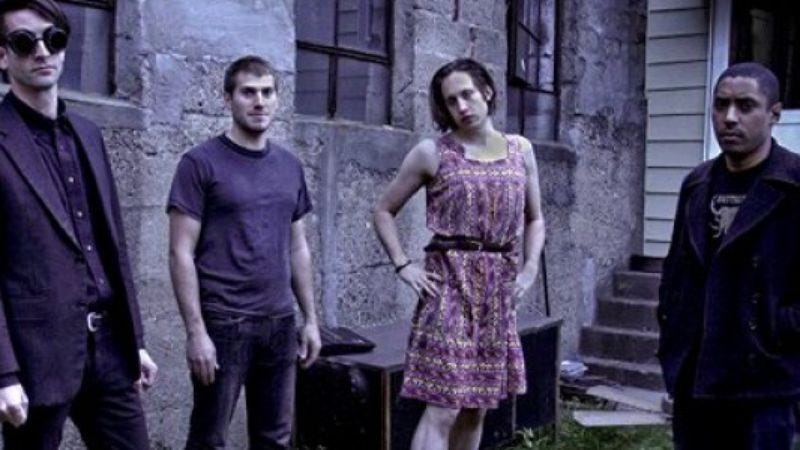 We get a lot of records sent to us here at The A.V. Club. Fortunately, we end up liking some of them. In Playlisted, we share our latest recommendations.
Album: The Horror by Pop. 1280 (out now on Sacred Bones)
Press play if you like: Churning, industrialized noise-punk that's about as mellifluous as a botched tracheotomy—and about as wholesome as mechanically-separated Flipper meat.
Some background: The Grid— Pop. 1280's debut EP from last year—was a claustrophobic clusterfuck of digital death-rattles and modulated psychosis. But on the new full-length The Horror, the New York group has expanded its lineup, as well as its pain threshold. With all the blasé oblivion of a Novocain overdose, the quartet wields throbbing low-end, scrap-metal guitar, and spoken-sung litanies of malaise that veer from mumbles to sneers to hyperventilated chants. Songs such as "Cyclotron" and "Crime Time" recycle the cryogenic panic attack and intergalactic synth pulses of Chrome; "Burn The Worm" is Birthday Party-like in its atonal deployment of pelvic muscles, pheromones, and paranoia. But there are also hints of curdled, pigfuck grease-punk to "Nature Boy"—and more frighteningly, a sense of humor.
Try this: While there isn't a track on The Horror that could be considered particularly approachable in the conventional sense, the thug-like immediacy of "New Electronix" cuts right to the heart of the album's lurching, perverted, science-fiction anxiety. Not to mention listeners' spines.