After 17 years of professional music-reviewing, Noel Murray is taking time off from all new music, and is revisiting his record collection in alphabetical order, to take stock of what he's amassed, and consider what he still needs.
When Louis Prima's act opened at The Sahara in 1956, he quickly went from being a has-been big band leader to arguably the hippest musician in the country, combining brassy pop, swinging jazz and gritty rock 'n' roll, while playing off his two foils: energetic young saxophonist Sam Butera and deadpan southern belle (and Prima's wife) Keely Smith. Over the course of a single show at The Sahara's cramped lounge, Prima and company would clown around, sing songs that played off Prima's Italian-American heritage (and his reputation as a jive-talking rogue), and gradually work smartly dressed tourists into the kind of frenzy that helped cement Vegas' reputation as an adult playground. Other Vegas headliners—Frank Sinatra and Dean Martin, most prominently—would finish their sets and go check out Prima, who did four to five shows a night, typically wrapping the last one around dawn. When the swing and Vegas revivals rolled around in the early '90s, Prima's style and sound naturally came back into favor, as young people across the U.S. tried-to co-opt the antique "with it" attitude of songs like "Just One Of Those Things" and "Jump, Jive & Wail."
But what the neo-hipsters may not have realized is that Prima—like Sinatra, Elvis and others in The Vegas Generation—already had an element of nostalgia built into his act, even in the late '50s. Prima had become a star in the '30s and '40s, first by following the lead of Louis Armstrong and making his New Orleans origins a centerpiece of his music, and then by pumping out jokey hits perfect for the novelty-happy radio of the post-War era. So by the time he arrived in Vegas, Prima was as much of a relic of a bygone age as the acts that call the Strip home today. People who remembered him from a decade ago would pack The Sahara, expecting to hear all the goofy hits they danced to as teenagers, delivered in Prima's signature patois of outdated hepspeak and goombah jokes. And Prima would oblige, while slyly updating the old standards for the nuclear age.
G/O Media may get a commission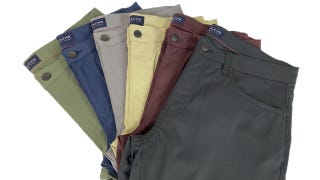 JACHS NY Fall Stretch Tech Pants
The history of popular music can be described as a series of links in a chain, though those links don't always follow one after the other. Sometimes musicians jump back a few links and start another chain, tethered to the original one—and sometimes they jump back a few links and just stay there. Prima did both. He jumped back to the big band era and started a new chain that eventually looped back to the original one, connecting at the junction marked "rock 'n' roll." And then he stayed in that loop for the next two decades, until he died.
Other bands have taken a different approach. After pioneering an especially gritty and hooky brand of garage rock, The Kinks started looking backward, drawing on English music hall and pastoral traditions, and reflecting on the culture that made them. Their music stayed relatively fresh and modern, but there was a new awareness to The Kinks' songs in the late '60s: a sense of the past leaning heavily—almost oppressively—into the now. It's a mode Ray and Dave Davies would return to throughout their career, even in their late-period hit "Come Dancing," a song that comes off like a cutesy novelty number at first, then reveals a surprising depth of sentiment.
The Kinks were part of an unorganized movement towards nostalgia that began to develop towards the end of the '60s. Whether it was The Band or Bob Dylan with their "down home"-isms, or the post-Bonnie & Clyde boom in vintage fashion, or even Sha Na Na, there seemed to be a willingness in the '60s generation, as the times got crazier, to return to a perceived simplicity. And that need persisted in the '70s, with American Graffiti, Happy Days, and (arguably) punk rock; and in the '80s, with The Stray Cats, Linda Ronstadt and Nelson Riddle, and Taco (among others). Call it nostalgia, call it homage—the pining was palpable.
In the '90s though, the rules of retro began to change, largely due to the emergence of alt-country and the aforementioned swing revival. Musicians either became so meticulous in their recreation of the past that they sucked all the joy out of it, or so tongue-in-cheek that their motivations were suspect. Or, in a few cases, they found some theretofore under-explored niche in popular music and settled in, building miniature kingdoms on property that few visited. That was the case with The Ladybug Transistor, a Brooklyn outfit who joined the wave of psych-pop revivalists in The Elephant 6 Collective, but quickly diverged from the garage-y leanings of the E6-ers and found their bliss in the pristine, pastoral pop of The Free Design and The 5th Dimension. There's absolutely nothing innovative about the best Ladybug Transistor albums (which would be 1999's The Albemarle Sound and 2007's Can't Wait Another Day, by the way), but it's impressive how purposefully bandleader Gary Olson can shift his head to another era and reconstruct a bygone style. He's building the homes he wants to live in, and giving guided tours.
Then there are those who, like Louis Prima, recycle the old into something shiny and new—and with wild imagination. Kurt Heasley's 15-year-career as the frontman for the band Lilys has seen him shift from My Bloody Valentine-style shoegazer noise to indie-rock clatter and spacey dream-pop. Then he discovered the Elephant 6 collective and took his own stab at neo-British-Invasion homages, beginning with the 1996 album Better Can't Make Your Life Better, and continuing on the EP Services For The Soon To Be Departed and the oddball major label effort The 3 Way. Unlike his E6 peers, Heasley has reinterpreted garage-rock the way a cubist might paint a bowl of fruit. His stream-of-consciousness lyrics rarely rhyme or even follow a common pattern, though those patient enough to wait out his familiar-yet-maddeningly-alien idea of pop are rewarded with triumphant moments of cohesion. His best songs sound like all the music from a typical Shindig episode, shattered and bent around a brittle, non-linear short story.
The danger of retro as a stylistic choice is that it after the initial pleasure of revisiting the past, the music can start to sound limited, or silly, or—worst of all—pointless. They trick is for artists to convey the personal affection and attraction they have for old music, and to make it their own. Or the trick is to be a Louis Prima, with a personality and a will so outsized that people enjoy what you're doing even when they don't know they're being slyly, oh-so-subtly toyed with.
*****************
Pieces Of The Puzzle
King Missile
Years Of Operation 1986-present (sort of)
Fits Between Jonathan Richman and Bongwater
Personal Correspondence Through little fault of their own, musicians who lean heavy on humor in their acts tend to draw some obnoxious fans; the likes of They Might Be Giants, Weird Al and Frank Zappa tend to attract people who distrust the pandering elements of conventional pop music, and therefore gravitate to those who subvert and mock. But that's never really been the case with John S. Hall and his on-and-off outfit King Missile—perhaps because the King Missile fanbase has never been large enough to grow especially rabid. Hall had one fluke hit—"Detachable Penis"—during that narrow post-Nirvana window when nearly every known entity in the alt-rock universe got a tumble from mainstream radio and MTV. And King Missile songs were a staple of college radio from '88-'92: "Jesus Was Way Cool," "Cheesecake Truck," "My Heart Is A Flower" and "Martin Scorsese" in particular all got a lot of play, not just because they were funny, catchy songs, but because they proffered a real point of view. Hall's stage persona was part naïf, part prophet, and when he proselytized about the enduring power of rock ("Look at Def Leppard! Drummer's got one fucking arm!…Look at Guns 'N' Roses! Need I say more?") or the necessity of workplace theft ("Why buy a file cabinet? Why buy a phone?… I took a whole desk from the last place I worked. They never noticed. And it looks great in my apartment."), his sense of whimsy and masterfully faked sincerity at once satirized and affirmed the nascent slacker lifestyle. He never skewered me and my friends any more than we'd skewer ourselves.
Enduring presence? Hall left King Missile behind to finish his degree and become an entertainment lawyer, but he's assembled new versions of the band a few times over the past decade for mini-tours and largely ignored albums. I confess I haven't kept up with King Missile since college, but I was impressed this week by how well the records Mystical Shit and The Way To Salvation hold up. They have what novelty music needs most: replay value.
Kings Of Leon
Years Of Operation 2000-present
Fits Between The Marshall Tucker Band and The Wedding Present
Personal Correspondence Some of my fellow Tennessee music scribes have been a little annoyed by the rapid ascendancy of Kings Of Leon, who seemed to have a major label deal and an overseas fanbase before they'd even gained any traction in the local scene. I think some of my colleagues were also annoyed by a backstory—part of a traveling evangelist family, barely exposed to rock 'n' roll—which didn't really jibe with Kings Of Leon's roots-rock proficiency and frequently raunchy lyrics. Me, I found Kings Of Leon fascinating from the start, and especially when they began to branch out into post-punk and pop on their second and third albums. About the practically flawless 2005 LP Aha Shake Heartbreak, I wrote, "Lead singer Caleb Followill carries on like Mick Jagger in his sassy/sad 'Miss You' guise, while his brothers and cousins bash out simple riffs halfway between Velvet Underground at their grubbiest and Black Flag at their bass-driven hookiest. The band sounds lean and limber, ready to spring, rolling from call-and-response spirituals to whip-crack boogie on 'Pistol Of Fire,' shooting laser-pulsing guitar riffs across rapid-fire square-dance calls on 'King Of The Rodeo,' building a song out of a single long, low groan on 'Milk,' and letting bongos cushion the second-generation UK tropicalia of 'Soft.' Aha Shake Heartbreak fuses gutter-rock fury and sex-obsessed adolescent pop, serving as a reminder of how the punk kids of the '80s were able to embrace The Smiths and Social Distortion simultaneously. Meanwhile, Kings Of Leon's sudden disinterest in conventional song structures either serves as an admission that the band lacks the chops to compete with the deep-fried, corn-crusted arena rockers it once emulated, or is a bold expression of the power of deconstruction. By letting a song peter out rather than end properly, maybe Kings Of Leon is signaling that rock 'n' roll only needs the good parts of songs, and doesn't need verses and bridges as an excuse to get to them. Or maybe the band just doesn't know any better." Then, about 2007's edgier Because Of The Times: "Kings Of Leon's journey into deconstruction continues on album number three, which contains 13 songs that don't sound like 'songs,' per se, but more like bridges, codas and reprises, cobbled together into one long mood piece. Because Of The Times follows its own eccentric muse, at its own fitful pace. It takes its cues from the opening song, 'Knocked Up,' a slow-simmering, seven-minute meditation on a life in transition, steeped in echo and potential."
Enduring presence? When I wrote a couple of months ago about the contemporary southern rockers I have the most faith in, Kings Of Leon were squarely on the list. I'm not so sure I trust the legends spun around them myself, but I don't much care, because to me they represent the future of the genre (if you can call it a genre): The Followills write personal songs with an undisguised regional bias, and they've shown an eagerness to grow. They're not purists. In the 21st century, purists won't do.
[pagebreak]
The Kinks
Years Of Operation 1963-96
Fits Between Chuck Berry and Paul Weller
Personal Correspondence Jason Heller covered this subject so well in his Primer back in February that I almost feel like anything I could add here would be redundant. (Also, I've already tapped out a few brief thoughts in this week's opening essay.) So instead, I'll just note how I perceived The Kinks as a young rock 'n' roll fan: In short, I couldn't make sense of them. The band's early proto-garage hits were favorites of mine in my early teens, and whenever the local classic rock station played "Lola," "Destroyer" or "Do It Again," I turned the radio up. But though I liked The Kinks' two decades of radio hits, I had a hard time finding the continuity, and for a while I chalked up the discordance to the band's longevity. (Like Manfred Mann or Golden Earring or Deep Purple… all bands whose early hits stood side-by-side with their fluke later hits on the radio, making no clear sense of how they got from Point A to Point B.) Later, when I found a used copy of The Kink Kronikles on cassette, I realized the problem: When I was growing up, American album rock and classic rock radio stations didn't play the prime late '60s Kinks songs, from when the Davies brothers were expanding beyond brute riffage into nuanced social commentary and looser song structures. A song like the complex "Get Back In Line," with its direct address to the trials of a laborer in a hyper-class-conscious state, probably would've sounded out of place next to Boston and Santana, and yet its such a quintessential Kinks song, taking the point of view on one frustrated, quizzical soul who knows more about the way the world works than he's willing to let on. Without "Get Back In Line" (or "Victoria," or "David Watts," or "Waterloo Sunset," or "Did You See His Name?"), the more popular parts of the Kinks discography come off as mere mindless fun. The band's greatness has to do with the way they could be silly, witty and wise. Take one element away and the picture grows fuzzy.
Enduring presence? Hey, they're The Kinks, man. They'll endure.
Lambchop
Years Of Operation 1992-present
Fits Between Charlie Rich and Tindersticks
Personal Correspondence I left Nashville to go to college in 1988, right when the local rock scene was weakening, and had all but squandered its brief moment in the national spotlight, post-Jason & The Scorchers. When I got back in 1992, there wasn't much of a scene to speak of, outside of the usual assortment of high school hardcore bands and grizzled jammers. Nevertheless, the arts editor at the local alt-weekly looked over my clips from the college paper and asked me to find fresh angles on some of the more neglected parts of the scene: the dance clubs, the open mic nights, the sleazy dives where local legends from the '80s still hung out, and so on. What I didn't yet realize was that my editor, Jonathan Marx, was a member of a band that would soon become one of Nashville's most beloved musical exports. More in line with the DIY and indie-rock movements of Chapel Hill and D.C. than with anything going on in Nashville at the time, the band then-known as Posterchild, later to be Lambchop, were so ramshackle and unassuming that when I saw them live in the early going, they didn't leave much of an impression, and when I heard their early recordings, I shrugged. Then Lambchop signed to Merge Records (run by Superchunk's Mac McCaughan, a friend of Marx's from college) and put out a single ("Nine" b/w "Moody Fucker") that displayed a clarity of concept I can only call "unexpected" (and "delightful"). The band had been expanding organically over the years, picking up talented musicians who felt disillusioned by Nashville's rock and country scenes, and bandleader Kurt Wagner gradually learned how to use them to back his mumbly, allusive sketches of everyday life. By the time Lambchop released the sprawling, jokily titled debut album I Hope You're Sitting Down, Wagner and company sounded like a jingly old music box, plunking out lullabies for exhausted young rockers. Lambchop spent a couple of years in this mode, with only the occasional wall-of-sound rocker to break up what was starting to become a little monotonous. And then: a level-jump with 2000's Nixon, a gorgeous country-soul record that spoke directly (and hopefully) about work, love, and Wagner's desire to reproduce. The album became Lambchop's breakthrough (especially overseas), and gave Wagner the freedom to quit his job and do a little musical exploring. For 2002's more difficult Is A Woman, Wagner fussed over each individual song, stripping away some layers and extending others to create an immersive, not-always-inviting experience. Then for 2004's dual releases Aw C'Mon/No, You C'Mon, he ditched the careful planning and wrote a song a day, picking the best 24 and emphasizing songs that were shorter and poppier. The for 2006's Damaged, Wagner converted the lingering hurt of some tough personal experiences into 10 songs that restored Is A Woman's perfectionism, but with Nixon's easy beauty. Even if I weren't on friendly terms with a handful of Lambchoppers past and present, I'd still consider their albums to be the highlights of any given musical year. Wagner writes songs that sound lived-in, and that take time to fully appreciate. Each new Lambchop album is a gift that can take months to unwrap. But they're always worth it.
Enduring presence? I've interviewed Wagner a few times over the years, and though he tends to be a little shy and outwardly humble, he understands and explains his own work better than I ever could. Listening to Wagner talk about his affinity for Ray Davies, or musique concrete, or DIY, or the late '60s "countrypolitan" sound, it's easier to hear how each has been an influence, from Davies' "one lonely man" perspective to the sonic escapism of classic country. But for me, the biggest key to understanding Wagner's point of view is to grasp his philosophy of art, which encompasses superior craftsmanship, lively conversation and spontaneous creativity—the sum of daily interactions.
Led Zeppelin
Years Of Operation 1968-80
Fits Between Willie Dixon and The Yardbirds
Personal Correspondence When I first started listening to college radio, I'd talk up various bands to my brother, but since he'd been steeped in classic rock and new wave, he had a hard time getting past how cruddy so much of college rock sounded. And I could sympathize. A few years later, when I started reading about the Seattle sound and this wave of "grunge" bands equally influenced by The Stooges and Led Zeppelin, I got excited, but none of them ever sounded the way I expected them to sound. None were Zeppelin, in other words. None had that ability to shift in a microsecond from a whisper in the ear to a shout across a canyon. None had that mystique that Zeppelin built by rarely licensing their songs for use in movies, and rarely making themselves accessible to the commoners. Even when I was in junior high and started feeling that some bands belonged to me and some bands never would, I never felt like Led Zeppelin belonged to anybody. They were common property, like the moon. If you had the resources to reach them, you could plant your flag, but that didn't keep them from rising every night, visible to all. And for all the talk about Jimmy Page's preoccupation with the supernatural and Robert Plant's ferocious sexual appetite, Zeppelin could be a surprisingly gentle band, and a poppy one. They rocked like a beast, but they also knew how to write hooks. I've gone through phases where different Zeppelin albums were my favorite: I first fell in love with IV (or whatever the hell you choose to call it), and later swore by Houses Of The Holy. But the album I keep coming back to is II, which runs the gamut from heavy blues to garage-rock throwaways to what King Missile would call "mystical shit." In a lot of ways, Led Zeppelin II follows the blueprint laid down by the band's debut album, but there's one key difference: the sound. From the second album forward, the dynamics grew more extreme, the drums punchier, the wailing more distant, and the space between we mere mortals and the gods who deigned to walk among us ever more impossible to bridge.
Enduring presence? As a Zeppelin fan practically since birth, I was somewhat stunned to learn that the major rock critics of the '70s weren't always on board with the whole LedZep thing, in part because they fancied themselves enemies of pomp, pretension and appropriation. And I'll grant that many of the band's songs—especially in the early days—were ripped off from old bluesmen without proper attribution. But what they did with those songs was wholly their own invention. They were builders, not thieves—and what they built was grand.
The Lemonheads
Years Of Operation 1986-97, 2005-present
Fits Between The Blake Babies and Buffalo Tom
Personal Correspondence Maybe the worst concert I ever saw—and in some ways the best—was The Lemonheads on the Lovey tour. Evan Dando was in a foul mood, and convinced the monitors weren't working properly, so on nearly every song, he'd sing the first couple of lines and then retreat from the mic and play the rest as an instrumental. This went on for about nine songs—roughly 20 minutes—before he said goodnight and left the stage for good. If it had gone any longer, the show would've been intolerable. If it had been any shorter, I'd have really felt ripped off. As it was, at 20 minutes, I kind of felt like I'd gotten my money's worth, if only because it gave me a story to tell. Afterwards, the apologetic drummer hung around and hawked T-shirts, and I actually bought one: a shirt with the cover of The Lemonheads' debut album, Hate Your Friends. That, combined with my Peter Bagge Hate comics T-shirt, once prompted my mom to say, "Why do you have all these 'hate' shirts? I thought we raised you better than that." Enduring presence? I forgave Dando and bought It's A Shame About Ray when it came out two years later, and I'm glad I did, since it became one of my favorite albums of the '90s. But I still miss the early Lemonheads of Hate Your Friends, Creator and Lick, when Dando would trade off songwriting and vocal duties with Ben Deily, and they bashed out raspy, charmingly amateurish pop-punk. They were loose, lively, and refreshingly minor.
The Libertines
Years Of Operation 1997-2004 (for now)
Fits Between The Damned and Supergrass
Personal Correspondence My Uncle Drew worked for Sanctuary Records for a stretch at the turn of the millennium, and would periodically send me "care packages" of CDs the label was distributing in the U.S. One of those packages contained The Libertines' debut album Up The Bracket, about a month before it came out in the states, and I became preoccupied with that record for reasons I found hard to explain. (I even called up my uncle and asked him about the band, who were in the midst of their first U.S. tour at the time, and already causing headaches for their handlers.) When I reviewed Up The Bracket, I wrote, "British rockers pop out promising debut albums with the frequency of toddlers throwing tantrums, but The Libertines are one of the few of the new breed of UK retro-punk acts to show real promise in their promise. The Libertines have taken the right lessons from their forbears, retaining the wit and casual charm of the original class of '77 as well as the reckless energy. 'Horrorshow' exemplifies The Libertines' approach, packing a hopped-up guitar riff, rowdy, slurred vocals, a chorus that sounds like it was lifted from a late night drinking game, and careening, out of control drums into two-and-a-half minutes of giddy slop." I liked The Libertines' eponymous follow-up almost as much, because though it sounded superficially sloppier, a lot of that was due to the bands' attempts to deepen and advance their sound. (Ultimately, I recommend last year's compilation Time For Heroes as a well-chosen anthology of the best of both albums, plus some essential non-LP tracks.) When I interviewed Mick Jones a couple of years ago, I asked him about The Libertines' reckless approach to rock and life, and whether as their producer he could've intervened and played a "godfatherly" role, to tell them what drugs and bickering were about to destroy. Jones replied, "There's no use… It's all much quicker now, do you know what I mean? You see the whole life of a band in a couple of albums. You get thrust into a gust that goes a thousand miles an hour. And then it's over."
Enduring presence? A lot of people I know can't stand The Libertines and have taken some perverse joy in their career comeuppance, but I think those folks are fooling themselves if they think they've heard the last of The Libertines, either as a working band or as icons of their age. As I pondered when I reviewed Time For Heroes last year: "Did The Libertines' drug-and-scandal-fueled collapse cost them a spot in the great rock firmament, or assure it?" I think the next few years will tell the tale.
[pagebreak]
Life Without Buildings
Years Of Operation 1999-2002
Fits Between Pylon and Elastica
Personal Correspondence The only time I've ever been so excited about a CD that I initiated a call to the publicist came when I put on Life Without Buildings' lone LP Any Other City for the first time. I'd never heard of the band, and had no idea what I was in for when I popped the CD in late one afternoon (as part of my regular clean-up of the promo pile). When the last track ended, I grabbed the one-sheet press kit and rang up their domestic publicity man to ask some questions, the first one being, "Who are these guys?" Convinced I was on the ground floor of something huge, I banged out this review: "Here are some of the rock acts that the Glasgow-based art-punk quartet Life Without Buildings sound like: Patti Smith, The Pretenders, Altered Images, Pylon, The Go-Go's, Missing Persons, Sleater-Kinney, Le Tigre and Sonic Youth's Kim Gordon. The 10 songs on the band's debut LP don't bounce from one influence to another; they reduce the flavor and style of† 25 years of brainy girlpunk and reproduce them on track after track. Guitarist Robert Johnston works up a pleasant bit of angular jangle punctuated by staccato picking, while bassist Chris Evans steps nimbly around Johnston's chords and drummer Will Bradley steers the arrangements through multiple breaks and tempo changes. Then vocalist/lyricist Sue Tompkins coos, trills, chants and stammers out semi-improvised, oddly stressed exclamations like 'eyes like lotus leaves / no not even like / lotus leaves.' Tompkins starts and stops and starts again, repeating herself and savoring the way words feel coming out of her mouth. She frequently morphs similar-sounding phrases, so that 'if I lose you' becomes 'if illusion street.' If the new expression makes no literal sense, then no matter. Tompkins is using her voice the way that Johnston uses his guitar, essentially dueting. Life Without Buildings' sound is initially intoxicating, attractive in its combination of approachability and elusiveness, though inevitably the uniformity of the band's approach becomes somewhat numbing. But then that's part of the time-honored Britpop tradition of inventing a great sound and then exhausting it on the very first record. Nevertheless, that sound is great. It's the sound of bravado undercut by hesitation, and a shout of excitement followed by murmured regrets. It's a punch and beauty show." Alas, Any Other City failed to become a critics' darling outside of a small circle of critics (about half whom wrote for The A.V. Club, and were probably just telling me they liked LWB just to shut me up). Then the band broke up, leaving behind a live album in addition to Any Other City, but no explanation as to why they disappeared—or indeed, why they appeared in the first place.
Enduring presence?† Because of the rigidity of Life Without Buildings/ style, I can't really recommend listening to Any Other City from start to finish, even though every single song at the record still holds up. Better to stick the album on your iPod and let the songs come up every now and then on shuffle, giving you the kind of happy surprise they once gave me.
Lilys
Years Of Operation 1991-present
Fits Between The Kinks and My Bloody Valentine
Personal Correspondence The first Lilys album I heard was Kurt Heasley's first stab at garage-y psych-pop, Better Can't Make Your Life Better, and then I worked my way backwards through the band's existing discography, finding something new with each new purchase. A lot of the pre-Better material is derivative of My Bloody Valentine or other shoegazers, but the EP A Brief History Of Amazing Letdowns—one of Scott Tobias' favorite records, by the way—did to dream-pop what Heasley would later do to garage-rock, reconstructing it into something more personal and crazily conceptual. Writing about Lilys' most recent album Everything Wrong Is Imaginary, I suggested that, "When Kurt Heasley finally abandons his mercurial guitar-pop project Lilys, it'll take a savvy compiler to assemble an anthology that makes sense of everywhere he's been. There is a continuous path through Lilys' periodic advances and retreats, but only a few songs on each album really fit into the seamless whole." I guess what ultimately connects Lilys' wildly eclectic catalog is the way the songs splinter and bend pop convention, making distortion, atonality and stunted riffs into something weird and beautiful.
Enduring presence? According to what I've read, Heasley has had some personal problems that have interfered with his career, and given how mercurial and fly-by-night a lot of that career has been, the lack of stability on the homefront can't be all that promising. I fear I may have heard the last of Lilys, and even though the last couple of albums haven't been as good as The 3 Way, they've still been intermittently exciting. I guess my main concern when it comes to Lilys is that not enough people know the band for them to be as fondly remembered as they should be, should Heasley decide to call it quits for good. I just hope that wherever he is and whatever he's doing, he realizes that he still has fans.
Lone Justice
Los Lobos
Years Of Operation 1982-86/1975-present
Fits Between Tom Petty and Los Lobos/Ritchie Valens and Lone Justice
Personal Correspondence Local music scenes tend to develop distinctive traits, even when the actual sounds the bands are producing are wildly different. I've mentioned before how my experiences with the Athens, GA scene were different from the Nashville scene, because the former prized experimentation and iconoclasm, while the latter valued polish and careerism. I've never lived in (or even visited) Los Angeles, but from a distance, the L.A. scene has always seemed to lean more to the Nashville side. (Small wonder—they're both industry towns.) In L.A., even a lot of the more offbeat bands quickly develop a certain sheen. When Lone Justice started playing the local clubs in the early '80s, a buzz quickly built about the band's country-rock chops and Maria McKee's big, yelping voice. They were ferocious. They were "authentic." And if the wanted to make a lot of money, they were going to have to change. With the best of intentions, high-profile Lone Justice fans like Tom Petty (who gave them the classic song "Ways To Be Wicked"), Linda Ronstadt, Steven Van Zandt and Jimmy Iovine pushed the band to make a few commercial concessions, and it didn't take long before Lone Justice lost a lot of the passion and rough edge that made them so special. (It didn't help that their superb debut album didn't sell, and that everyone but McKee quit the band.) Like Jason & The Scorchers, Drivin 'N' Cryin' and other roots-rock bands in the synthesized mid-'80s, Lone Justice had a hard time holding on to what made them unique. In Lone Justice's case, being from L.A. and having powerful friends didn't help.
Perhaps Lone Justice would've done better to follow the lead of Los Lobos, who'd been around for over a decade by the time they caught their big break, and so were able to find ways to avoid the usual traps. Over its 35-year existence, Los Lobos has been both a leader and follower in the roots-rock movement—first joining The Blasters and X in pumping twang into the L.A. punk scene at the turn of the '80s, and then actively searching for a way to move that sound forward by decade's end. After the twin success of their 1984 LP How Will The Wolf Survive? and their cover of "La Bamba," Los Lobos briefly played the industry game, releasing a more mainstream rock follow-up (1987's By The Light Of The Moon) and making themselves open to whatever their management suggested (which led to them getting screwed over by Paul Simon), but once it became obvious that they were never going to be more than a cult act, Los Lobos loosened up. Over the past decade-plus, Los Lobos has traveled beyond the Chicano-flavored roots music of its early records, venturing into the realm of experimentation and pure ideas, and often abandoning the conventional songwriting that they had previously mastered. The sound of '90s Los Lobos was entrenched in the band's ethnic heritage, yet also plugged into musical and artistic modernism; it was the sound of a transistor radio in a dusty Mexican village, picking up signals from outer space. In the '00s, they've settled down again and become more of a jam band. But most importantly, they're stuck around, to remind everyone what a combination of doggedness and adventurousness can produce. Even in L.A.
Enduring presence? I'll have more to say about Maria McKee in a couple of weeks. For now, in tribute to the late Bo Diddley, enjoy the walloping "East Of Eden." As for Los Lobos, I've dipped in and out of their discography over the years, and these days I typically only pick up a new album by them if I read good reviews. But I preserve a special place for them in the pantheon just for How Will The Wolf Survive?, as concise, personal and invigorating a rock 'n' roll album as the '80s produced.
Lou Reed
Years Of Operation 1971-present
Fits Between Iggy Pop and Willie Nile
Personal Correspondence Last fall, when Popless was still just an idea that I was kicking around with incredulous colleagues, I wrote what could be considered the first Popless entry, in one of my daily dispatches from the Toronto film festival. Reviewing Julian Schnabel's grainy concert film Lou Reed's Berlin, I wrote, "Lou Reed remained fairly prolific in the three decades after he left The Velvet Underground, but his solo albums—outside of maybe Transformer—never exactly set the world afire in the way that V.U.'s body of work did. The Blue Mask, New Sensations and New York are well-liked by many, but even among Reed fans, his solo stuff tends to be fairly divisive, with vocal proponents and opponents of everything from the avant-noise experiment Metal Machine Music to the post-Springsteen mainstream-rock push Coney Island Baby. (The latter being one of my favorites.) Berlin is especially controversial among Reed-ophiles, both for its prog-rock pretensions—it's a song cycle about a drug-addicted German prostitute and her children, with contributing performances by the likes of Steve Winwood and Jack Bruce—and for its fashionable nihilism. Lester Bangs bashed it as 'a gargantuan slab of maggoty rancor,' and fans of the more pop-minded Transformer by and large didn't care to take Reed's journey into the colossally morose in 1973. Me though, I've always loved Berlin. I bought a used cassette copy when I was a junior in high school and played it obsessively for months, absorbing every somber string-hanging and wobbly cabaret melody. I was a classic-rock and prog-rock buff before I got into punk and new wave, and I initially approached the latter genres from a historical/scholarly perspective, not because I had any interest in 'the scene.' I bought my first Minutemen and Hüsker Dü albums because they got good reviews in magazines I respected. Ditto The Velvet Underground, who I got into because their name kept getting dropped in reference to a lot of other bands I liked. (And because their records had just come back into print at the time, to much critical fanfare.) When I got around to Berlin, I found I liked it even more than Transformer, because the flutes and strings on Berlin sounded a lot more like the classic rock I was familiar with than Transformer's laconic glam posturing." I then went on to talk about the movie—which is being released in a few weeks—but I made one final point about Reed that bears repeating, saying, "He's always been an ideal case study for rock auteurists, because so much of what makes him great is bound up in his weird lyrics and lackadaisical vocals, both of which are particularly off-putting on Berlin; and yet, it's those words and how Reed sings them that makes Berlin so personal, so idiosyncratic." That pretty much sums up Reed's solo career to me. He writes songs about whatever's on his mind, and sometimes it comes out cranky or goofy or even outright stupid. But that lack of a filter also makes his work exciting, and wholly his.
Enduring presence? Generally speaking, I prefer The Velvet Undergound to Reed's solo work, though there's so much of the latter that I could easily put together 90 minutes or so of solo Reed to stack up alongside the best of V.U. What most impresses me about him these days—especially in Schnabel's film—is how much of an old-school rocker he is. As daring as Reed's music has been over the decades, on stage he tends to pick up his guitar, find a groove, and lay there for as long as he can, taking simple delight in the interplay between himself and his band.
[pagebreak]
*****************
Stray Tracks
From the fringes of the collection, a few songs to share….
Kelly Hogan, "Strayed"
After The Jody Grind disbanded, Kelly Hogan drifted from Atlanta to Chicago, guesting on records by rockabilly and alt-country acts, and recording the occasional promising-but-underrealized solo record. The best of her solo efforts have been the lively Beneath The Country Underdog and the moodier Because It Feel Good, the latter of which features Hogan's trademark pipes on a set of minimal, affecting torch & twang tunes. Most of the album has Hogan deploying her full dynamic range over a single, echoey electric guitar, a muted rhythm section, and faint strains of strings and pedal steel. The tactic pays off most handsomely on a haunting cover of Smog's "Strayed," which laps forward like ocean waves, while Hogan croons words of regret penned by an unfaithful man.
Kevin Tihista's Red Terror, "Pretty Please"
Coming towards the end of the biggest wave of orchestrated singer-songwriter reveries (exemplified by the work of Joe Pernice, Rufus Wainwright, Josh Rouse and Eric Matthews), Kevin Tihista's Red Terror's fine 2001 debut album Don't Breathe A Word was largely and unjustly ignored. The former bassist for grunge acts Triple Fast Action and Veruca Salt assembled a loose assortment of Chicago associates to help him realize his AM radio dreams, employing a thick lead guitar sound reminiscent of Abbey Road-era Beatles, to which he added a fragile, Alex Chilton-like voice and trappings of horns, organs and synthesized bells and strings. On the upbeat, piano-and-vibe-pumped "Pretty Please," Tihista draws inspiration from the same floating cloud of diffuse beauty that was alighting overseas at the time, and settling over the music of Belle And Sebastian, The Clientele and The High Llamas. It's a cloud composed of vaporized bits of Brian Wilson, The Left Banke and the countless one-hit wonders whose treacly crowd-pleasers often define emotions and eras better than the highest art.
Kid Creole & The Coconuts, "Endicott"
This song was a staple of MTV and local music video programs in the mid-'80s, though I don't think I ever heard it on the actual radio. Without Kid Creole's natty hat and exaggerated Cab Calloway moves, his music didn't translate quite as well, though "Endicott" bounces along agreeably and amusingly enough that I'm surprised it wasn't a bigger hit. Even though Kid Creole came from the New York art-disco world, here he dabbles in the genre-bending funk of Prince and his disciples, playing the mainstream game well.
Killing Joke, "Darkness Before Dawn"
I pulled Killing Joke's Night Time out of my brother's record collection in the mid-'80s because I was a fan of the song "Eighties" (a.k.a. "Come As You Are"—The Early Years), and I was surprised by how much I liked the record as a whole, with its menacing thump, stormy guitars and fundamental pop sense. I later listened to the earlier Killing Joke albums, and thought they were good too, but I'll always have a soft spot for that big crossover LP, with its sound that hundreds of local bands across the country tried to copy.
The Knack, "Don't Look Back"
Here's one of the most critically reviled bands of the '70s tackling a fairly obscure song by one the era's biggest critical darlings, Bruce Springsteen. Divorced from all the talk about misogyny, cynicism and creative bankruptcy—taken just as a tight, punchy power-pop act—The Knack ain't half-bad. I'm in no hurry to hear "My Sharona" again—Reality Bites kind of killed that song for good—but I could cue up this cover any time.
Komeda, "Top Star"
It's been a while since this Swedish group made a record, but in the mid-to-late '90s they had a good run with their Teutonic, Stereolab-by-way-of-Kraftwerk sound. Komeda's best album is 1996's The Genius Of Komeda, which intertwines spooky guitars, buzzing analog synths, and the seductively monotone vocals of Lena Karlsson, who recites love songs as though they were a set of instructions for building a toaster. Imagine pop music authorized by a totalitarian regime with a weakness for Peter Max posters, and you've got an idea of the kooky "otherness" that makes Komeda such a unique treat.
Kraftwerk, "Pocket Calculator"
And now, from the imitators to the originals. I'm more a Kraftwerk dabbler than devoteee. When it comes to Kraftwerk, the more a song sounds like a dispatch from some futuristic society where machines have dominion over man, the happier I am. Luckily, that describes nearly every Kraftwerk song.
Kurtis Blow, "The Breaks"
Kurtis Blow was one of the first hip-hop artists to break through in my peer group, though that didn't happen until he cut "Basketball" in 1984. "Basketball" was popular among all the 13-year-olds I knew because it was about something we understood. If we'd been 13 back in 1980, we'd probably have dug "The Breaks" too, laughing at its litany of bad luck moments, even as we failed to grasp that the title had a double meaning in hip-hop circles. As it happens, I didn't hear "The Breaks" for the first time until I was a junior in college, and I bought a box set of early hip-hop and electrofunk singles. Because of "Basketball"—and because of the natural embarrassment we all feel towards things we liked when we were 13—I'd always kind of dismissed Blow as a joke, not worth taking seriously. Then I listened to "The Breaks," and got schooled.
LaBelle, "Something In The Air/The Revolution Will Not Be Televised"
Continuing on the theme of misperception, my general sense of Patti LaBelle when I was a youngster was that she was a generic screechy soul singer, showing up at the end of big concert events like Live Aid to drown out everyone else on stage with her diva antics. Then I picked up the compilation Movin' On Up, a set of socially conscious funk and R&B; from the '70s, and heard LaBelle's take on Thunderclap Newman and Gil Scot-Heron. I did a little research and discovered that this wasn't an aberration, but that Labelle (both the lady and the band) were known for their sprawling soulful covers of contemporary pop and rock songs—sort of like a distaff Isaac Hayes, but more danceable. Doesn't make Patti LaBelle herself any less annoying as a stage presence or TV personality, but it gives me more respect for her and her mates as clever, ambitious musicians.
LaBrea Stompers, "BBQ"
My wife was a member of these Athens long-timers while we were both attending UGA, and in fact the first time I ever saw Donna was onstage with the Stompers, playing organ and looking foxy, and the first time I ever spoke with her was in conjunction with an article I wrote about a big outdoor show on the Georgia campus. She always appreciated the nice things I wrote about the band in the student paper, and I always appreciated the way the Stompers made music that was rollicking, funny, and distinctively skewed. After Donna left the band, the Stompers made their big push, recording an album for dB Records that leaned more toward muscular funk-punk than the greasy lo-fi boogie that I'd enjoyed so much. (Though a couple of the old songs survived, like this paean to good meat.) I was disappointed in the direction the band went in, but I've got the ultimate souvenir from their glory days.
Langhorne Slim, "By The Time The Sun's Gone Down"
Banjo-playing troubadour Langhorne Slim can come off at first like one of those annoying alt-country jokesters who slaps on overalls and drawls smart-ass songs about roadkill and moonshine. But Slim owes more to the steeped-in Americana of The Band and Bob Dylan than the kitsch-country of The Meat Purveyors. Accenting his fleet banjo-picking with tambourine, trap drums and organ, he channels the of-the-moment ecstasy of a revival meeting or hootenanny into brisk affirmations like "By The Time The Sun's Gone Down," a hum-happy woo-pitching that's part come-on, part fantasy, and all charm.
Lansing-Dreiden, "A Line You Can Cross"
The cloak of anonymity surrounding New York art-rockers Lansing-Dreiden impacts its music, making the band's version of shoegazer guitar-pop emerge partially obscured. The band borrows liberally from British soundscapers like Cocteau Twins, Simple Minds, Talk Talk, and Stone Roses, but they manipulate their influences into something mysterious and abstract. I can't decide if a song like "A Line You Can Cross" would sound better played more straight, or if it's the subtle alterations of the form that make it interesting.
The Late B.P. Helium, "Bluebeard"
How do you review your friends? I've been friendly with various musicians over the years, but Bryan Poole—a.k.a. Bryan Helium, a.k.a. The Late B.P. Helium—is the only one who was a good friend before he started gigging around. Bryan was at UGA when I was, and dated my then-girlfriend's roommate for a few months, which meant we spent a lot of weekend mornings all hanging around the same dorm room, doing crossword puzzles and listening to CDs. Bryan and I bonded over XTC, Uncle Tupelo, Miracle Legion, Minutemen and Robyn Hitchcock (the latter of whom Bryan kind of resembles, physically and musically), and sometimes he'd tell me about old magazine articles he'd found about our favorite bands, on something called "the Internet." After both our relationships ended, we didn't hang out as much, but even after I left Athens, we'd connect from time to time and talk music. The whole Elephant 6 thing happened after I left, and Bryan hooked up with that crowd and has had a pretty good long run with it, serving time in both Elf Power and Of Montreal. He's also released a solo EP and LP, combining the sounds of a lot of those bands we used to talk about. I've reviewed his records, since we hadn't communicated with each other in years, and because I genuinely liked both. Still… It's weird. I listen to "Bluebeard," and when the vocals start, that's Bryan. I know that dude.
Latyrx, "Lady Don't Tek No"
I know it's hopelessly white of me that most of my favorite hip-hop of the past decade comes from the Solesides/Quannum crew, but you know, I'm not going to wring my hands about it. This is a terrific single, with both Lyrics Born and Lateef affecting a guttural cadence that resembles a guy mumbling to himself, and getting more worked up as he goes.
LCD Soundsystem, "All My Friends"
I didn't make a "best songs of '07" list or mix CD last year, but if I had, this addictive, insinuating single from Sound Of Silver would've been an anchor track. The song it most reminds me of is New Order's "Temptation," another propulsive-yet-wistful dance number that keeps improbably cresting. LCDS' main man James Murphy is so well-schooled in his genre that I'm sure "Temptation" is somewhere in the actual DNA of "All My Friends," along with Arthur Russell and other art-disco legends. But what makes this song so amazing is how Murphy transcends the theoretical, making art that's entertaining and moving.
[pagebreak]
Le Tigre, "Deceptacon"
Kathleen Hanna's major post-Bikini Kill act started out with great promise—and I mean that literally, since "Deceptacon" is the first song on Le Tigre's first album. I never felt like the project realized its full potential, but "Deceptacon" alone is a good blueprint for any young band that wants to know how riot grrrl punk, hip-hop and art-pop can be fused into something at once angry, catchy, smart and fun.
Lee Hazlewood, "I Move Around"
A favorite of retro-rockers and nostalgists everywhere, Lee Hazlewood was a visionary producer and songwriter, crafting epic, cinematic songs that described small moments and simple emotions. This song is one of my favorites. The repeated "I've seen"s and the increasing grandeur of the orchestration implies deep wisdom and understanding, but the stinger at the end of each verse—"since I've seen you with him, I move around"—undercuts the majesty, making the singer's world travels into a petty response to a bad breakup.
Leonard Cohen, "Winter Lady"
My first exposure to Leonard Cohen—outside of Neil The Hippie's worry about being "dead yet still alive, like Leonard Cohen" on an episode of The Young Ones—came when I watched Robert Altman's 1971 western McCabe & Mrs. Miller, which instantly became my favorite movie of all time. My McCabe fandom is due in no small part due to the way Altman uses Cohen's songs in the opening and closing sequences, to reflect the windswept melancholy and the sense of dreams being built from the ground up before getting crushed from above. Though written and recorded before McCabe was shot, Cohen's lyrics echo the plot are often too uncanny, from the prophetic introduction of the gunslinger McCabe via the line, "He was just some Joseph looking for a manger," to the painful description of the title relationship with the phrase, "I'm just a station on your way, I know I'm not your lover."
†
Letters To Cleo, "Here & Now"
Here's the cycle of pop music in fandom in action. In the mid-'90s, I was more or less fed up with the proliferation of major-label-approved next-big-things, clogging up modern rock radio with beefy versions of sounds pioneered by alt-rock heroes like The Replacements and Pixies. Now, away from the fray, "Here & Now" just sounds kick-ass. No, it ain't The Breeders. Yes, bandleader Kay Handley is now totally in the pocket of the Disney Channel. But at the end of the day, who cares, really? A rockin' song is a rockin' song.
Lightnin' Hopkins, "Let Me Play With Your Poodle"
I don't think he's talking about a dog here.
Lindsey Buckingham, "Shut Us Down"
Buckingham's 2006 LP Under The Skin was a pleasant surprise—a low-key, tuneful, textured record that eschewed the gimmickry that has often marred Buckingham's solo albums in the past. Songs like "Shut Us Down" are like a distilled shot of Buckingham: the rapid picking, the raspy voice, the curtailed melody, and that feeling of being shut in with a man who may not be entirely stable.
Linkin Park, "Bleed Us Out"
For years, I prided myself on knowing as much about modern music as kids half my age, but one day about eight years ago I was visiting my family back in Nashville and one of my nephews told me that his current favorite band was Linkin Park, whom I'd never heard of. When I got back home, I checked them out, and quickly realized that they weren't exactly my thing: too bombastic, too serious and too featureless for my taste. But when I next visited my nephew, and he asked what I thought of Linkin Park, I recall mumbling something like, "Pretty good." Was that wrong? I've always tried to treat my nephews like peers, the way I remember my favorite uncles treating me, but at the same time it seems like kind of a dickish move to say to a teenager, "You know that band you like so much? In my professional opinion they suck." Anyway, I didn't think they sucked, per se. Linkin Park are just skilled pros making music outside my area of interest (outside of the occasional entertaining fist-pumper, like this song). As an aside, I interviewed LP mastermind Mike Shinoda for another publication two years ago, and found him bright and engaging, with a lot to say about the songwriting and record-making process. At some point I want to write a blog post about interviewing folks like Shinoda, whom I find interesting to talk to even when I don't like their music. A lot of A.V. Club readers seem to take personal offense if we interview someone that they think is uncool, but I tend to care more about the results. Even if someone makes popular art that I don't like, they might still have something to say that's worth hearing.
Lipps Inc., "Funkytown"
Little River Band, "Lonesome Loser"
These are two of the first 45s I ever owned. The former was a gift from my Uncle Drew, who worked for Casablanca Records in the late'70s, and gave me a copy of "Funkytown" a month or so before the song was officially released. I thought it was awesome—but then there's nothing an 9-year-old likes more than sound effects. (By the way, I didn't get the pun in the band's name until about five years ago. I'm slow sometimes.) As for "Lonesome Loser," I bought it as a birthday present for my mom, though it quickly became my property. (My mom preferred "Reminiscing," which always made her tear up.) Little River Band recorded about a half-dozen memorable hit singles in the late '70s and early '80s, each so unlike the other that it often takes people a moment or two to realize that they've heard as much Little River Band as they have. "Cool Change?" "The Night Owls?" "Lady?" "The Other Guy?" You probably know these songs, and don't even know you know them.
Little Richard, "Rip It Up"
I bought my first issue of Rolling Stone (pictured below) because it featured a short story by Stephen King, but I read the magazine cover-to-cover, including the long profile of Little Richard and his struggles with sex and spirituality over the decades. At the time, Little Richard to me was just another early rock guy, not readily distinguishable from Chuck Berry, Jerry Lee Lewis, Carl Perkins, and all the other musicians I knew more by name than by reputation. So I was somewhat shocked—and titillated—to read about Little Richard's raunchy past, which is reflected in songs like this sexy number about how he's going to "ball tonight." When I read that article, I was about a two weeks away from buying Purple Rain and becoming a Prince fan, and in a way, beginning to understand Little Richard was a crucial step toward understanding Prince. But that's a subject I'll take up again in a month or so.
The Long Winters, "Clouds"
I think what I respond to most strongly in The Long Winters' music is the way John Roderick winds deliberately through a song, following long-line melodies that sometimes end up in places very different from where he started. I also enjoy his plainspoken philosophizing, and funny lines like, "Your magic beans mean at least you'll have one giant friend." The Long Winters have done very little wrong in their career to date, in my opinion.
Loose Fur, "Wreckroom"
Quite a few Wilco fans can't stand Jeff Tweedy's side project with Glenn Kotche and Jim O'Rourke, but songs like this one off 2006's Born Again In The USA are a major reason why I sometimes dig Loose Fur even more than Wilco. (And I love Wilco.) In a way Loose Fur goes a little further in the direction that Wilco has been pursuing on albums like the magnificent A Ghost Is Born. All that's missing are lyrics as strong as Wilco's. In Loose Fur, the words are really more a way of biding time until the band launches into lengthy vamps, mounding plucked and keyed instruments on top of Kotche's steady, rolling percussion. Songs like "Wreckroom" stretch folk-rock jamming until it breakings, taking cold pleasure in the collapse.
Loretta Lynn, "Fist City"
My feelings about Loretta Lynn have been impacted by the movies: by Coal Miner's Daughter of course, and also Nashville, which lampoons Lynn's frailty while covertly acknowledging her genius. I find it difficult to listen to a lot of Lynn in a single sitting, especially since so many of her early singles follow the same formula: a little shuffle, a little twang, and a lot of infidelity. But in individual doses—like this direct challenge to one of her husband's many suitors—Lynn's music is remarkably frank and funny. Throughout her career—including the very fine Van Lear Rose—she's treated country music and male-female relationships as ever-evolving, never frozen.
Loudon Wainwright III, "Lullaby"
Father's Day was last week, but since I was traveling then, I'll dedicate this one to all the dads, who should identify with this song about wishing your kids would just shut their yaps. (After we put our kids to bed at night, we get on average about three "come-outs" per child until they finally crash.)
Louis Armstrong, "Tiger Rag"
Louis Jordan, "Beware"
Louis Prima, "The Lip"
Back when I still made mixtapes, I made one called "Louis Kablooie" which combined songs by all three of the above. Here are my favorites from each: Armstrong going full-tilt in front of an ecstatic crowd; Jordan in full-on jokester mode, warning against marriage; and Prima stringing together surreal non-sequiturs at the prompting of Keely Smith (who reveals her northern Virginian origins every time she sings the word "about" or "mouth"). Whenever I get depressed about the state of the nation, I try to remember that I live in a country that produced these three cats. No one plays high notes like The Llllllip.
Regrettably unremarked upon: Keane, Ken Nordine, Ken Stringfellow, Kenny Loggins, Kid Koala, The Killers, Kim Fowley, King Crimson, Kirsty Maccoll, Kitty Wells, Kleenex/LiLiPUT, Kool & The Gang, Kris Kristofferson, Kristin Hersh, KRS-One, Kylie Minogue, The La's, Lake Trout, Lalo Schifirin, The Langley Schools Music Project, Lee "Scratch" Perry, The Left Banke, The Legendary Pink Dots, The Lemon Pipers, Lena Horne, Lenny Kravitz, Les Brown & His Band Of Renown, Les Paul, Les Savy Fav, Lesley Gore, Lester Young, Liars, Lifter Puller, Linda Thompson, Link Wray, Lionel Hampton, Lionel Richie, Living Colour, Liz Phair, Lloyd Cole, Los Campesinos!, Lou Barlow and Lou Rawls
Also listened to: Kate Havnevik, Kath Bloom, Katharine Whalen, Katie Herzig, Katrina Leskanich, Kay Starr, Keith Mansfield, Kelis, Kelli O'Hara, Kelly Joe Phelps, Kelly Osbourne, Kelly Rossum, Kelly Willis, Ken Will Morton, The Kennedys, Kenny Butterill, Keola Beamer, Kev Russell's Junker, Kevin "Bloody" Wilson, Kevin Coyne, Kevin Fowler, Kevin Gordon, Kevin Sharp, Kevin Shields, Kevin Spacey, Kevlar, Kevn Kinney, Kid 606, Kid Carpet, Kid Loco, Kid Thomas, Kidnap, Kieran Hebden, Kieran McGee, Killbilly, The Kills, The Kim Philbys, Kim Richey, Kim Weston, Kim Wilde, Kimone, Kimya Dawson, Kind Of Like Spitting, King Cobb Steelie, King Curtis, King Elementary, King Kooba, King Radio, King Wilkie, The Kingsbury Manx, The Kinleys, Kirby Tepper, KJ Sawka, The Knickerbockers, Knodel, Koerner Ray & Glover, Konono No. 1, The Koobas, The Kooks, Kool Blues, Kreidler, Krikor & W.A.R.R.I.O.R., Kriss Kross, Kristin Mooney, Kristoffer Ragnstam, Krystal Generation, Krystle Warren, Kurt Neumann, Kurt Wagner, Kurtis Rush, Kylesa, L Hollis & The Macadoos, L.A. Style, L.C. McKinley, L.E.O., L7, La Belle Aurore, La Pregunta, La Rocca, Lace, Ladybirds, Ladytron, Laid Back, Lakes, Lakota, Lali Puna, Land Of Chocolate, Land Of Talk, Landing, Langtry, Lanquis, Lanu, The Lapse, Larry Dowd, Larry Marshall, Larry Steele, Larry Wallis, Lashes, The Last, The Last Goodnight, Last November, Latimer, Latino Rockabilly War, Laugh, Laura Branigan, Laura Cantrell, Laura Lee, Laurie Johnson, Lawnmower Deth, Lazlo Bane, Leaves, The Leaves, Leaving Rouge, Lee Ann Womack, Lee Bob Watson, Lee Diamond & Uppsetters, Lee Howell, Lee Mallory, Lee Nestor, Lee Potter, Lee Sain, Leels, Leeroy Stagger, Leftover Salmon, The Legends, Leiana, Leigh Marble, The Lemon Drops, Lemon Jelly, Lemoncholy, Len, Lenine, Leonard Carbo, Leroy Hutson, Les 5-4-3-2-1, Les Fleur Des Lys, Les Nubians, Les Rhythmes Digitales, Leslie Miller, Leslie Overdrive, Let's Go Sailing, The Letdowns, Letty & Georgia, Leviathan, Levy, Lewis & Clarke, Li'l Cap'n Travis, Liam Gallagher, Liam Lynch, The Life And Times, Lifeboy, Lifesavas, Light This City, The Light Wires, Lightning Bolt, The Like, Lil' Bow Wow, Lil' Louis, Lil' Queenie & The Percolators, Lilium, The Lily Brothers, Limbeck, Linda Clifford, Linda Lyndell, Linda Scott, The Lions, Lir, Lisa Lynne, Lisa O'Kane, Lisa Papineau, Lisa Stansfield, The Litter, Little Arthur King, Little Bob Story, Little Denise Stevenson, The Little Heroes, Little Junior's Blue Flames, The Little Killers, Little Lois Barber, Little Milton, Little Ones, Little Sonny, Little Texas, Little Willie John, Little Wings, The Lively Ones, Living Things, Liz Durrett, Liz Janes, Liz Story, Lizzie West & The White Buffalo, Llama, Llorca, Lloyd & Devon, Lloyd Delpratt, Lloyd Williams, LMP, Lô Borges, Loer Velocity, Loft, Lola Ray, Lole Y Manuel, Lona, Lone Pigeon, The Lone Ranger, The Lonely H, Lonesome Bob, Loney Dear, The Longcut, Longwave, Lonnie Hewlett, Lonnie Johnson, Lonnie Mack, Lonnie Youngblood, The Looking Glass, Loop & Kara, Looper, Loose Joints, The Loose Salute, Lorene Drive, Lorraine Feather, Lorrie & Larry Collins, Los Abandoned, Los Aterciopelados, Los Bravos, Los Femurs, Los Lonely Boys, Los Mazambiques, Los Shakers, Los Straitjackets, The Lot Six, Lotte Lenya and Lou Carlozo
Next week: From Love to Marah, plus a few words on critical agenda-setting.