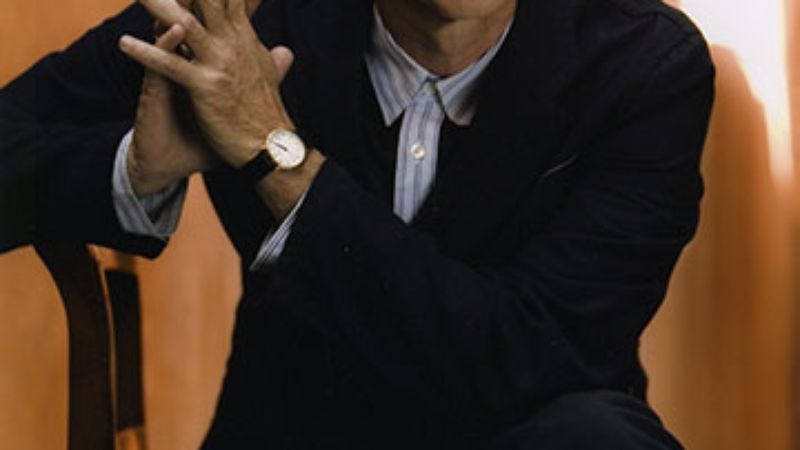 The shuffler: Perversely comedic writer-director John Waters is American cinema's reigning student of warped romance. (At least to anyone who's seen the declarations of love exchanged by Connie and Raymond Marble in his 1972 classic Pink Flamingos, or the quickly reversed sex-change operation at the end of Desperate Living.) He also wrote and directed the recent A Dirty Shame and the film-turned-musical-soon-to-be-a-film-again Hairspray, and he curated the new compilation CD A Date With John Waters, which ranges from sincerely sweet to characteristically kitschy.
Keren Ann, "Sailor & The Widow"
John Waters: I don't listen to iPods that much. When I do, it's always in Provincetown at the beach, when I'm riding my bicycle, which is probably dangerous. I can barely work the iPod. I'm technologically challenged. I try to put songs on that I don't know, that I'm not sick of, ones that at first I don't even know what they are when they pop up, and I think, "What's this song?" But there are some CDs that I like. I have Keren Ann's CDs. I like her. She sang in French a lot, but this one was an early one. I looked it up and it's from an album called Not Going Anywhere, which I think is mostly in English. She talks so fast, but she's so French and so cool. I'm a big fan of understated stuff sometimes, especially at the beach, and this is a story about a sailor and a widow, and it's just very cool. I love the name, Not Going Anywhere. She's not making any great claims.
Tindersticks, "Sweet Release"
JW: A lot of their music really sounds similar, and it's kinda like Low, and all the groups like that, like Cowboy Junkies. That very understated, kind of soundtrack music. A lot of it was instrumental. I knew about this group from the Claire Denis films. They did do a lot of soundtracks. It's mopey, suicidal music for angst-ridden young arty kids, and that's why I like listening to it.
Tina Turner, "Letter From Tina"
JW: I have every one of their old albums. I loved Tina when she was with Ike even better. This is really maybe the first rap record I ever heard; when she reads this letter, she's almost crazy, "Dear my man." "I worry so much, I make myself sick"—what a great lyric. I always followed her, I saw her in high school when she was very young. Ike was always a fashion influence on me. I always wished a white person could look like Ike Turner. I remember reading that he was the only person who could spend a million dollars in a 5-and-10-cent store. I'm a big fan of them, and I never get sick of listening to Tina in the early days.
The A.V. Club: Why do you like them so much?
JW: When I first heard them, they were so raw. Tina's voice was so scary and beyond soulful. Almost like a monster, in a way. She was so angst-ridden, and screamed in such a great way, she alarmed me as a kid when I first heard her. I remember the cover of that album, Dynamite, which was a huge influence on Divine and me in the beginning. She had a ratty mink coat and a mustache, and she wore Springolators. Divine wore Springolators in a lot of my movies, because of Tina. That was a 1950s high-heeled shoe that didn't have a back, and the Springolator was the little piece of rubber that kept them flapping.
AVC: How do you think she'd feel about being an influence on Divine?
JW: I don't know. I've never met Tina Turner. She lives in Switzerland. She's almost Jackie Kennedy-esque. I'm sure she's not thrilled about any of that period. I don't know today if it's an image she's fond of remembering or not. But I am, and I have the pictures. [Laughs.]
Johnnie Ray, "Cry"
JW: I have all his records. He was the only deaf white man that everybody thought was black, and he was gay, and yet he married, and he cried when he sang, and he had that record, "Cry," which was a huge hit. He was famous for a very, very short time, only between Frank Sinatra and Elvis, and he was hugely successful, but many people don't remember him.
King Pleasure, "I'm Really In The Mood For Love"
JW: That was a beatnik song when I was young. The first thing I ever wanted to be was a beatnik, and that was what they played in the beatnik bars that I would sneak into. It always reminded me of being a beatnik. I'm still a beatnik. I do have a set of bongos, and I did have sandals that laced up to my knees. But I was 12, so it was kind of hard to be a real beatnik in suburban Baltimore. [Laughs.] There weren't a lot of poetry readings around my neighborhood at the time.