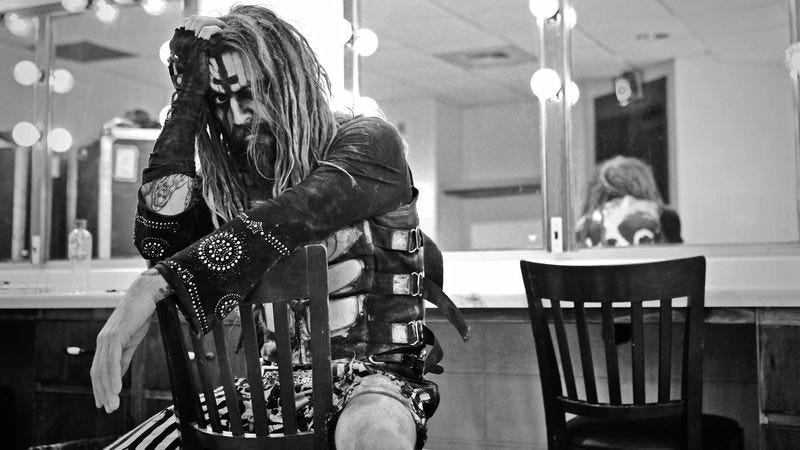 Rob Zombie's music career often feels completely separate from his cinematic endeavors. This disconnection is curious, especially because the sinister-meets-schlocky vibe of his solo records is a perfect complement to his horror movie work. Still, Zombie's moving closer to bridging the gap between his creative sides: Not only is he apparently making a film to go along with his sixth solo record, The Electric Warlock Acid Witch Satanic Orgy Celebration Dispenser, but the album itself is structured like a soundtrack. Brief interstitial songs—highlighted by the sci-fi synthpop burst "Super-Doom-Hex-Gloom Part One" and the creepy acoustic-folk instrumental "A Hearse Overturns With The Coffin Bursting Open"—provide atmospheric levity. So does the five-and-a-half-minute album closer "Wurdalak," which starts mired in metallic sludge and ends with a mournful, plaintive piano solo.
Make no mistake, Electric Warlock is full of razor-burned guitar aggression, with Zombie's usual doses of electronic programming thrown in for occasional color. However, tunes such as "In The Age Of The Consecrated Vampire We All Get High" and "In The Bone Pile" possess far sharper arrangements than the songs on Zombie's 2013 release, Venomous Rat Regeneration Vendor. Credit for that certainly goes to Electric Warlock's producer, noted hard-rock architect Zeuss. But it's also a testament to Zombie's band finding its groove: For the second album in a row, former Marilyn Manson drummer Ginger Fish joins bassist Piggy D. and another ex-Manson band member, Zombie's longtime guitarist John 5.
With this background, it's no wonder that "Get Your Boots On! That's The End Of Rock And Roll" stomps like a '90s-era Manson song, from its glam rhythms to its jagged guitar blurts. Yet Electric Warlock is pleasingly diverse. The campy, excellent "Well, Everybody's Fucking In A U.F.O." is a dead ringer for Primus—from Zombie's Les Claypool-esque twangy mumbling to the choppy grooves—while the Ministry-esque highlight "Medication For The Melancholy" is a jackhammering, psych-metal rocket ride. And then there's "The Hideous Exhibitions Of A Dedicated Gore Whore," an earworm that sounds like the soundtrack to a beach blanket bingo in hell, between the unsteady organ warbling and the carnival barker growls. This trio of songs emphasizes Zombie's strengths as a showman and also possesses laser-like focus—the two qualities that make Electric Warlock such an engaging listen.