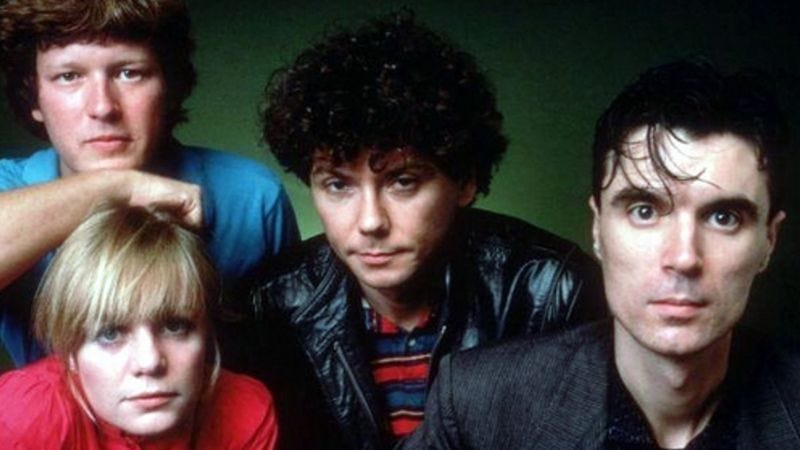 In Hear This, A.V. Club writers sing the praises of songs they know well—some inspired by a weekly theme and some not, but always songs worth hearing. This week, our favorite songs with (parenthetical) titles.
Over the years, I've spent an inordinate amount of time composing my "funeral playlist"—that final, self-serving moment when I force whomever is left to mourn me to admire my tastes, one last time. And besides my wife's horrified refusal to indulge any talk about it, that ever-shifting playlist's one constant has been Talking Heads' "This Must Be The Place (Naive Melody)," a song of dewy sentimentality from a band primarily known for wry detachment. What better musical coda for my own life, I've often thought, with its own symphony of cautiously expressed, self-conscious emotions? (Besides, it's as close as I can get to my favorite song ever, Talking Heads' "Once In A Lifetime"—a tune that feels just a tad too funky for a funeral.)
According to David Byrne, the parenthetical "(Naive Melody)" is meant as a nod to its simplistic structure, where the guitar—played by bassist Tina Weymouth, in a self-admittedly clumsy attempt—mirrors the bass line of Jerry Harrison's keyboard, completely eschewing any sort of musical complexity. But it could just as easily be a nod to its subject matter. Here, Byrne, who's not really known for writing straightforward love songs, approaches love with the same sort of wide-eyed, extraterrestrial wonder he gave to cities or civil servant jobs. And it's in that uncluttered naïveté that he captures what a million overwrought ballads never could.
"This Must Be The Place (Naive Melody)" is full of lines that sound like deeply emotional expressions, but only because of the way they coalesce. Taken apart, they're innocent, mostly banal non sequiturs that—more often than not—drift off into curlicue nothingness. Any actual resonance is based on some indefinable feeling that's, similarly, best left unexamined too closely. After all, love is its own naïve melody, best sung without paying too close attention to the words.
And like all honest art, that simplicity works. I've yet to find a song that makes my eyes water as consistently as the moment when Byrne reaches the final stanza's lines of "I'm just an animal looking for a home / Share the same space for a minute or two / And you love me till my heart stops / Love me till I'm dead." It remains the best musical expression I've ever heard of the inescapable fleetingness of life, and of the beauty in the most that we can make of it: to share the "minute or two" of our time here with someone else. And I can think of no better way to sum up the tacked-on parenthetical to this world that is my life.