The annual Bonnaroo music festival near Manchester, Tennessee boasts an absurd overabundance of super-famous and up-and-coming bands, its own mounted security force, and a living museum of tanning casualties second only to the state of Florida. This year's lineup spread artists as diverse as Jay-Z, Conan O'Brien, Stevie Wonder, Isis, The National, Tori Amos, and Kris Kristofferson across four days and a dozen-odd stages and tents (with such unhelpful names as What Stage, Which Stage, This Tent, That Tent, and The Other Tent). Eclectic as it is, attendees have to hike a lot to get the most of the mix. The A.V. Club pulled into one of Bonnaroo's cheekily nicknamed campgrounds (Camp Clark Griswold), ventured into Centeroo (as the actual fest area is called), and grew increasingly ripe in an attempt to gorge on comedy, metal, soul, and glow-stick-addled spectacle.
All photos by Katjusa Cisar
THURSDAY, JUNE 10: "Anybody spend a lot of time Googling hate groups?" —Baron Vaughn
The crowd gathered for Baroness at The Other Tent isn't the headbang-iest, perhaps because they're worn down by what's already been a full day of inching in from the Interstate, setting up tents, and in some cases, walking or hitchhiking half the hell around Manchester. The Georgia four-piece's intro gradually winds into the instrumental "Bullhead's Hymn" (from last year's Blue Record), one of several alternately pretty and noodly interludes. This might make for a tedious set, except that it helps the band tie together songs from Blue Record and Red Album with a flow that makes up for each record's slower points. Guitarist-vocalists John Dyer Baizley and Pete Adams aren't too stiff and tidy, and they clearly have some fun with their interplay on tunes like the best on Blue Record, "Jake Leg." After the Blue Record highlight "A Horse Called Golgotha," we wander off to The Silent Disco. It's a dance party where people listen to DJs through wireless headphones instead of a loudspeaker. It's one of those attractions that's designed to entertain the outside spectator, judging from the way breakdancing looks when one of Baroness' nastier songs is drifting across the field.
Even the Comedy Theater isn't spared the sound-bleed inevitable at big music festivals. The 1,600-seat tent seems to conduct stray tugboat-honks of bass from another set. Other than that, Baron Vaughn has a strong grip as he hosts and opens for J.B. Smoove (best known as one of "The Blacks" on Curb Your Enthusiasm). Vaughn's way with body language turns his set into half stand-up, half physical comedy. As he riffs on crappy pickup lines, he employs what he describes as "leftover choreography from Pat Benatar's 'Love Is A Battlefield.'" The more straightforward stand-up bits are excellent, too, especially the ones about looking up the Ku Klux Klan's website ("Call in the Grand Webmaster!") and the awkward ritual of buying condoms. That's not to discount fellow opener Rob Cantrell, who gets an impressive amount of material out of grapefruit. Smoove himself jabbers amiably through his set, and occasionally uses snippets of hip-hop songs over the house speakers. He likes one so much that he claims you could be born to it, and demonstrates this by lifting his T-shirt over his head and crowning through it. Still, of the three stand-ups we catch Thursday, Baron Vaughn has the richest, most curious and theatrical set.
G/O Media may get a commission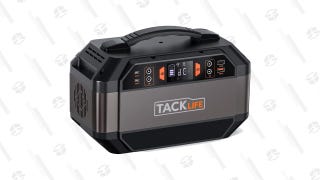 Tacklife Portable Solar Generator
---
FRIDAY, JUNE 11: "I've gone from The Tonight Show to performing at a refugee camp."—Conan O'Brien
As latecomers barge ahead of people who've been waiting since early morning for Conan O'Brien's first show at the Comedy Theatre, someone angrily jokes, "We were forced out of our time slot! You guys are Jay Leno, ya cunts!" Later, the waiting crowd is treated, if you can call it that, to two covers wafting over from other tents. New Orleans horn crew Trombone Shorty And Orleans Avenue honk and skreee their way through a funky instrumental version of "American Woman," and singer-songwriter Julia Nunes offers a folk-funk take on 'N Sync's "Bye Bye Bye."
Conan's show is a Bonnaroo version of his "Legally Prohibited From Being Funny On Television Tour," which Kyle Ryan and David Wolinsky caught in Chicago last month. It opens with a rave-up from the very Late Night-style band, and a video of a bearded, fat-suited Conan moping around the house. ("Mommy, Daddy smells like pee!") Despite his public departure from NBC, O'Brien doesn't vent too much bitterness about it, instead taking it in good, unnaturally long-legged stride. He even explains the eight stages of grief a fired talk-show host goes through: "blame myself" ("Screw that stage!"), "blame everyone else" ("That's a good stage!"), anger, paranoia, "36 hours of Red Bull and Halo," "buying everything Amazon says I would also like," "get your ass to Bonnaroo."
He says he enjoys not having to do monologues all about current events anymore, but he still indulges in the out-of-town-show-host tradition of making localized jokes: "They tried to have a Why? stage, but it blew everyone's mind." Andy Richter comes out for a joke commercial about Silent Disco, and he and Conan unveil their new "rock prop," a shitty inflatable bat purportedly from a Meat Loaf tour. It's too big for the tent, so its head pushes up against the ceiling and lighting rig. Conan and Andy riff on how wimpy it looks, and Conan punches its snout as it deflates.
When Conan tries on Eddie Murphy's ridiculous purple suit from Raw, I'm reminded that there's another offering of pasty East Coast charm starting: The Gaslight Anthem, on Which Stage. I get there in time for what seems to be the subdued portion of the New Jersey band's set, as leader Brian Fallon croons through "The Queen Of Lower Chelsea" from the new American Slang. But that's okay: Gaslight is as much a soul band as a punk-pop band, and has a fine ear for the sweetly sad. Things pick up, anyway, with "The Spirit Of Jazz" and "Great Expectations."
Say what you will about the reggae blurting from seemingly every other merch booth at Bonnaroo, the music has a pugnacious streak, and Nas and Damian Marley's set at What Stage thrives on that. It even avoids the bass-blubber pitfalls of live reggae and live hip-hop: Nas' verses and Marley's toasting and vocal hooks come through incredibly clear, considering that we're in a huge field.
From here, the schedule forces a quick trip through a mixed bag. There's time for most of The National's set (in which the Boxer songs consistently come off better than those from the new High Violet) before watching Tori Amos' grating cover of "Smells Like Teen Spirit," then it's time to watch Steve Martin play bluegrass. Martin played the banjo well when he was just joking on his old stand-up albums, and released The Crow, a decently received bluegrass album, last year. As he joins The Steep Canyon Rangers for the set, he looks dressed to take the podium at a Chamber Of Commerce meeting somewhere in Kentucky, in a white suit, glasses, and tie. Apart from a joke about how he takes a private plane while the Rangers take a tour bus, Martin is careful not to make himself the star. He comes off as studious and respectful. In spite of the old-timey vibe, he also takes a moment to brag about having his setlist on his iPad.
Crews set up the Which stage with a big arch-shaped light fixture and video screen, two giant disco balls, and a cannon that shoots confetti. These trappings, of course, are for two Flaming Lips sets—one featuring their own songs, another in which they'll cover Pink Floyd's Dark Side Of The Moon, with help from fellow Oklahomans Stardeath And White Dwarfs. To kick off the first set, Wayne Coyne and bandmates each pretend to be birthed anew, sliding down a small ramp in front of a giant neon vagina on the video screen. The first set balances out nicely for people who want "Do You Realize?" and "Yeah Yeah Yeah Song" sing-alongs, and people who want the earlier (or newer, on Embryonic) Lips' great bwamps of distorted bass, synth, and mix-cracking guitar jolts. Blasts of confetti and giant balloons float over the crowd. Coyne fires off more confetti from a hand-held potato-gun-looking thing, takes a ride over the audience in his man-sized hamster ball, and occasionally sings and plays acoustic guitar. A bunch of women dressed in orange '60s-stewardess uniforms and fake mustaches dance at the side of the stage.
"Do you realize we're floating in space" and "All you touch and all you see is all your life will ever be" aren't so far apart. Like the songs that have helped make the Lips more popular, Dark Side Of The Moon aims for big themes by way of almost childishly concise lyrics. Then again, the Lips like things messier, and don't so much reinterpret Pink Floyd's complex arrangements as collapse and smear them. "Breathe" sounds more like a Jefferson Airplane song, and during "Money," giant balloons full of actual money bounce out to the crowd. The best interpretation is a quiet, drumless "Us And Them," during which the stage goes dark, and multicolored laser-tongues stream out above the audience. It isn't some perfect, all-encompassing re-working of the album. It lets Coyne keep on being the ringleader, the bull in the party-supply store.
Nobody else has such an elaborate arsenal of stage props and audience-engulfing gimmicks, but you have to give LCD Soundsystem credit for attracting just about every person with a glow-stick, glowing ball, or body-suit of glow-stick rings in the house to This Tent. As we approach, it's a valley of neon doodads, and some lines from Black Sabbath's "War Pigs" drift across the field. From where we are, it isn't clear whether the lines are coming from LCD Soundsystem (definitely not from Kid Cudi, who's wrapping up his set at That Tent), but it clashes nicely with LCD's hyper-pristine dance-poundings.
---
SATURDAY, JUNE 12: "Wait 'til I tell my mama Stevie Wonder stuck around for my set." —Jay-Z
Shame on us: We're still having breakfast things for breakfast. One of our neighbors welcomes the morning with Patron in a sippy cup, and another has a plate piled high with corn dogs. Before the Cinema Tent opens up to let people in for a live stream of Conan's second performance, it's the best cool-off option (well, except for the weapons-grade AC in the press tent), and heat-dazed folk watch episode after episode of Robot Chicken.
You know it's a weak crowd when the obligatory bouncing beach ball actually manages to hit the ground and quietly disappear. The audience up front for Baaba Maal at Which Stage doesn't even reach back to the sound tent, even though this field was pretty packed an hour ago for a reggae band. "We came from Senegal yesterday," Maal announces warmly, though he'd be within his rights to add on "for this many people?" In his purple flowing garment, Maal comes off as a friendly bandleader rather than a charismatic griot. His band—a mix of traditional percussion and clean-toned pop instrumentation—features a drum kit playing up the middle between two hand-drummers, which should be a big draw at a festival with a merch booth called "Everyone's Drumming." Why aren't the djembe dabblers representin'? Still, Maal's vocals could trounce most American pop stars for sheer traditional versatility, as one of his hand-drummers occasionally struts to the front of the stage and treats us to some restrained pelvic wiggles.
There is, however, a successful international dance party happening at The Other Tent. Mexican Institute Of Sound vocalist-keyboardist Camilo Lara resembles a sweaty, indignant mobster with his stout build and pork-pie hat, and turntablist Julian Placencia often steps away from his decks to play distorted basslines. Shirtless, black-haired drummer Paco Vazquez looks like he belongs in a metal band: He backs up Lara's sassy raps and chants ("Heart! Beat-beat!") by staring fiercely at the audience and pointing at us with his drumsticks, as if to say, "This groove's fucking serious!" Definitely one of the fest's pleasant surprises. (Take that as you will from someone who's almost immune to dance music.)
In a schedule full of tricky conflicts, here's one bit of sequencing that does make sense: Isis and then The Melvins at This Tent. There isn't a ton of hard stuff to be heard at this year's Bonnaroo, so it might as well be concentrated. (Too bad Clutch's set was scheduled to conflict with Jay-Z's later.) The saddest thing about Isis' impending breakup isn't just no more new Isis records, but no more Isis shows. In a recent roundup of the decade's great metal albums, our own Leonard Pierce said that so-called "post-metal" often forgets to be heavy, and that Isis avoids that pitfall. That's twice as pronounced live. Aaron Turner and band roar into their desolate, entrancing set so fiercely (the opener, "Threshold Of Transformation," is pretty ballsy and abrupt for a 10-minute song) that by the time the first synth notes of "Ghost Key" float up, they almost seem out of place. Luckily, even that one dives back into dissonance before long. Even more out of place? The beach ball that bounces up past guitarist Michael Gallagher early in the set, only to get confiscated by a none-too-amused road manager. (NPR has a stream of the whole set.)
The heaviness takes a more warped turn as The Melvins' sound check began. Bass player Jared Warren (also of Big Business) shows a crewmember how to check a mic: "Che-YEEECK, check check check… sunburns! Let's hear it for sunburns!" Number-two drummer Coady Willis (also also of Big Business) emerges in a season-stealing summer dress: cloth printed with slices of pizza, in a Wilma Flintstone cut. King Buzzo wears some kind of monk's smock printed with colorful little donkeys, and Warren sports some kind of cheesy gladiator getup. After Willis and Dale Crover (doubled up at the middle of the stage) pound out the first of many stark, thudding drum intros, Buzzo creeps and moans his way into "Sacrifice," building up the merciless volume that makes live Melvins such a treat. The showmanship and shameless stream of catchy riffs from this fleshed-out lineup has become a grisly, awesomely degenerate answer to Cheap Trick, except with louder amps and four Rick Nielsen types contributing to the jackassery. At one point, Buzzo introduces everyone in the band, following each name with "…and he plays in… The Melvins!"
That's just the right amount of alienation for the day, and Weezer or Jeff Beck might turn it sour. (Both have great, great moments, but one is a little too soul-crushingly professional in concert, and the other is responsible for this album cover.) This calls for the beat-up charm of John Prine. Accompanied by just a bassist and a guitar/mandolin player, Prine begins his set with "Spanish Pipedream." ("Blow up your TV / Throw away your paper / Go to the country and build you a home.") Prine's voice has slurred a little with age, but it still carries the wry, matter-of-fact spirit of his lyrics. People scattered throughout the crowd seem to be cheering for different individual lines, and why not? The fun of this is just soaking up the eccentricity of Prine's wordplay: "Trying to save our marriage and perhaps catch a few fish / Whatever came first"; "[Grandpa] voted for Eisenhower because Lincoln won the war." As a surprise, two fellows from Old Crow Medicine Show join Prine to add fiddle and harmonies to "Angel From Montgomery" and "Lake Marie."
After this, there's very little scheduled to conflict with Stevie Wonder and his huge band (except Doug Benson and Bo Burnham at the Comedy Theatre), so the big What Stage field fills up to the back. It's so crowded that some people have to settle for a view of the big video screens, partially blocked by a lemonade stand. Wonder comes out wielding a keytar and switches between grand piano, clavinet, and harmonica while singing through his pretty-much-unequaled stockpiles of hits. For some musicians, the bazillion-players-plus-backup-singers setup makes the arrangements cheesy and hard to tell apart, but this band does a lot of justice to Wonder's scope. Nothing gets smoothed away—not the popping clavinet of "Superstition," not the harmonica solo on "For Once In My Life," not the pure naïve loveliness of "Signed, Sealed, Delivered," which might be my favorite pop song ever. The only weak moments are an extended keyboard journey through talkbox-land (so long that I almost suspect the little tube is stuck in Wonder's mouth and he doesn't want to admit it), and "A Time To Love," during which a multi-ethnic crew of percussionists hit the stage.
To get even a half-decent view of Jay-Z's set, there's no choice but to stay put by the What Stage for an hour. His backdrop is a 3-D big-city skyline that turns out to also be a massive, jagged video screen. During "Death Of Auto-Tune," it fills up with images of the computer program's dials, and then Auto-Tune symbolically explodes, or turns into molten lava. The skyline turns into an impossible stack of guitar amps for "99 Problems." Though he has a large backing band and DJ behind him, Jay-Z stays up front on what looks (on the big screens, at least) like a massive, empty expanse of stage. That suits the lonely-at-the-top vibe of his opening fanfare, but for the most part, it's a gesture of supreme, well-earned cockiness. As he bats back and forth across the rhythm of "Can I Get A" and boasts "Shit, I made the Yankee cap more famous than the Yankees can" on "Empire State Of Mind," Hova is lording his skill over us, but letting us share in his devilish chuckles. "Wait 'til I tell my mama Stevie Wonder stuck around for my set!" He even gets a girl up onstage and gets the massive crowd to sing "Happy Birthday" to her. Out there on his lonesome cliff of stage, he's bold as hell, but never entirely crass about it.
---
SUNDAY, JUNE 13: "The ride to the beer store is not nearly as fun as the ride back from the beer store." —Miranda Lambert
The bands that have come the farthest have the toughest job at Bonnaroo, it seems. Mali's Sahara-dwelling mystic-blues crew Tinariwen is standing just about where Baaba Maal was yesterday—on the Which Stage, at noon, in front of a small crowd that's exposed to the heat of the day. Granted, Tinariwen is used to playing in sun-scorched, sparsely populated conditions. A seven-member version of the band emerges, splendidly robed and wrapped. Guitarist-vocalist Abdallah Ag Alhousseyni starts it slow and quiet, and the set becomes a lesson in making bare-bones elements sound huge together. The band's idea of blues licks has more to do with dry-toned finger-picking than distorted wails, and two hand drummers and the backup singers' handclaps (no drum kit) sway together through dense rhythms. On just about every song, Alhousseyni sings a flowing melodic phrase and the other six voices in the band toss it back to him, one female backup singer's exuberant highs streaming off the top. In its own way, Tinariwen's hypno sing-alongs are as powerful an embrace as Jay-Z's "Empire State Of Mind" hook or Isis' vicious spread of low end. It's a shame the band doesn't get a chance to flourish in front of a bigger crowd here.
The weekend's brutal sun doesn't stop people from forming long lines to see multiple Aziz Ansari and Doug Benson/Bo Burnham shows at the Comedy Theatre. For this seated, air-conditioned venue, patrons first wait for tickets, then line up to get in. Great comedy selection this year, Bonnaroo, but it'd be cool to spread it around to other venues next time. Anyway, the Bonnaroo press folks are nice enough to help me get into the 5:30 Aziz show after I catch a few songs each from Japandroids and Against Me. After announcing a few "security bullet points" ("Nobody look at Aziz's shoes. They're very shy.") from backstage, Ansari introduces opener Chelsea Peretti. Another surprise mixed into the fest's comedy lineup, Peretti gets some fresh material out of the perils of dating, male-female double-standards, and even how to ward off rapists. ("I think reverse psychology would be the worst way to go.") Her tone is a big part of why the short set goes over so well: It's as if she's almost reluctant to bring up these subjects, and is kind of impatient to outgrow them. She even explains why she wishes she were a fat male comedian instead: "You guys would be like, 'YEEES, that looks like comedy!'" Her dating tactics include wearing a G-string under her jeans and pulling the straps over her shoulders ("single suspenders") and abruptly saying "Thank you for dinner!" during sex, just to "be a lady and show some gratitude."
Ansari's set doesn't dip back to this year's album, Intimate Moments For A Sensual Evening, but it comes from the same place. His bits build on pretty dumb surface stuff (getting distracted by Internet research, dating, celebrity jackassery), but get deceptively complicated. Take one bit about a racist locksmith who refused to help one of his Korean friends because he thinks Koreans are ruining the country. Sure, it's fun enough to just loudly riff on the subject, but Ansari conceptually laps himself, wondering how the locksmith could potentially warm up to Korean customers, then develop another racist stereotype that Koreans are perpetually getting locked out of their apartments. Ansari can't help returning to R. Kelly, because he "keeps doing amazing things," like offering a definition of "echo" in a YouTube video. This leads to Ansari singing a made-up R. Kelly song about fucking by an ATM ("damn, girl, I need additional funds!"), which is funny because it isn't that far from stuff R. Kelly does sing about. Ansari's incredible luck with celebrity encounters hasn't run out, either. He tells a story about overhearing 50 Cent arguing with a waiter. Having ordered a grapefruit soda, 50 asks why it isn't purple. "A waiter is about to explain to 50 Cent what a goddamn grapefruit is," Ansari marvels.
That Tent has been the country tent all Sunday. Miranda Lambert sheepishly brags more than once that she's now standing where Kris Kristofferson was just a couple of hours ago. There's nothing like seeing Lambert's mohawked bass player semi-head-bang along to loveably smart-assed pop-country tunes like "Dry Town" and "Time To Get A Gun." If Lambert could replace Sarah Palin as America's biggest voice for Jesus and the Second Amendment, this country would get along a whole lot better. Lambert really grasps country music's way of embracing people's imperfections: On the chorus of "Heart Like Mine," she sings, "I heard Jesus, he drank wine / I bet we'd get along just fine." In her sparkly vest and tank top, she even pauses for a solo-acoustic cover of John Prine's "Angel From Montgomery"—and reminds the audience that Prine, too, was on the same stage yesterday. By now, Phoenix is in the middle of its set at Which Stage, and it's probably impossible to get even a half-decent spot at the What Stage for Dave Matthews Band. Still, I've got enough of a soft spot for DMB that it makes a nice soundtrack to taking down camp and pulling back out on Manchester's dark rural roads.
---
BONNAROO MISCELLANY
Silliest promotional booth: The Wheat Thins Crunch Den, where you can eat a small serving of free Wheat Thins and apparently get photos or video of that time you ate the free Wheat Thins.
Best promotional booth: Adult Swim's Ragbag Of Jollification, a warped mini-midway that features a video arcade (housed in a giant inflatable Meatwad), and such games as Pin The Parts On Carl and a Squidbillies-themed ring toss. We won some temporary tattoos by taking a spin on the Metalocalypse-themed Wheel Of Deth. Spaces on the wheel include "Dethpot!" and "Your guts fell in the dirt."
Out-of-context Baron Vaughn quote: "'Thanks, crack-a-dactyl!' Now we know what Kwanzaa is about!"
Out-of-context Aziz Ansari quote: "Never be rude to the elderly again! Have fun burying your two puppies!"
Dumbest/most inexplicable graffiti on plywood walls around Centeroo: "Brooklyn Ass Pounder"
She & Him word of mouth in action: "The bitch from (500) Days Of Summer…" (one dude to his increasingly intrigued buddies)
Local church awkwardly fenced in among Bonnaroo campsites: Bushy Branch House Of Prayer.
Best tacky T-shirt slogan spotted in audience: "Freddie's Buffalo Wings: The only piece of chicken better than the rooster gets." (You know, because people fantasize about fucking the chicken while eating it, I guess?)
Worst seats in the house: The high, exposed VIP/handicapped bleachers by the Which Stage. During the day, at least, it looks like a giant hot-dog roller on an angle.
Best claimed celebrity sighting: Christopher Mintz-Plasse (Superbad's McLovin) was there, according to Gaslight Anthem frontman Brian Fallon.