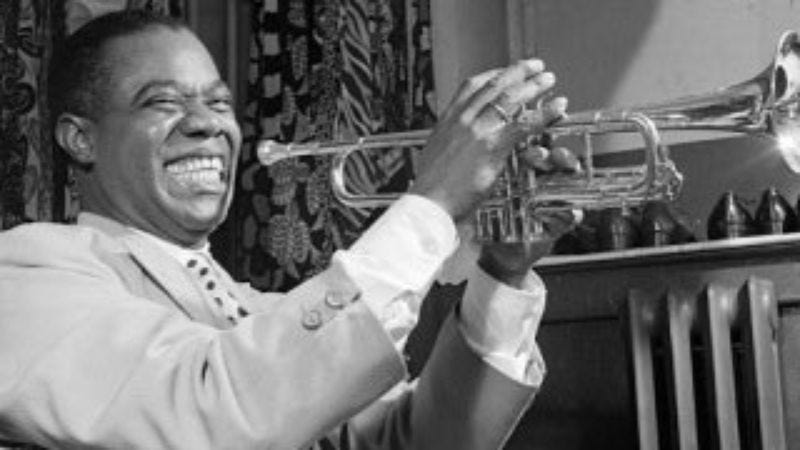 1. Louis Armstrong, "Do You Know What It Means To Miss New Orleans?" (available on Pops: The 1940's Small-Band Sides)
The story of New Orleans music neither begins nor ends with Louis Armstrong, but without him, it would lack a figurehead. Armstrong added his own spin to the sounds of his city, then took them to the world. With this song, he paid tribute to his home town on a track that's simultaneously sentimental and joyous. In other words, pure Armstrong.
2. Lil' Queenie & The Percolators, "My Darlin' New Orleans" (available on Professors, Doctors, Kings & Queens: The Big Ol' Box Of New Orleans)
Though Lil' Queenie and her band The Percolators were as revered as The Meters or The Neville Brothers, they left behind only one single when they retired in the early '80s. But what a single! The Percolators lay down a quintessential Crescent City foundation—piano, trap drums, Dixieland brass, and xylophone—while Lil' Queenie veers from a woozy travelogue to sultry Afro-Cuban chanting. It's the sound of Queenie and the boys strolling down Bourbon Street, stopping at every bar to dance a little and drink a little.
3. Dave Bartholomew, "Shrimp And Gumbo" (available on The Big Beat Of Dave Bartholomew: 20 Of His Milestone New Orleans Productions 1949-1960)
The clatter of percussion and searing-hot horns that distinguish this 1956 cult hit recreate the giddy chaos of a city street at lunch hour, as Bartholomew announces his wares: "Gumbo! Filé! Shrimp! Crab!" And did he just say "Mambo"? Whether he said it or not, he's clearly got a larder full of the stuff.
4. Clifton Chenier, "Jambalaya" (available on The King Of Zydeco Live At Montreux)
Hank Williams wrote the song, but Chenier understood it. The undisputed King Of Zydeco and his pumping accordion drive Williams' à la carte menu across Louisiana, picking up flavors of the city, country, and bayou, on the way to a chow-down by the lake.
5. Dr. John, "Gris-Gris Gumbo Ya-Ya" (available on Gris-Gris)
Later to become one of the torchbearers of traditional New Orleans R&B, Dr. John made his solo debut with an album that joined bayou mysticism with hippie psychedelia, never better than on this track. Over chants and a trippy drum beat, the good doctor claims to have the cure for what ails his audience somewhere in his sack of potions. It might be bad medicine, but it's sure to have some effect.
6. Boozoo Chavis, "Dog Hill" (available on Boozoo Chavis)
Rock 'N' Bowl regular Chavis was one of the architects of the zydeco sound in the '50s, and he returned to it in the '80s when a general interest in all things Orleans made the style popular again. This second-wind stomper pays tribute to the Lake Charles community, "where the pretty women at." The incessant barking is apparently a compliment.
7. Leadbelly, "New Orleans (The Rising Sun Blues)" (available on Where Did You Sleep Last Night: Leadbelly Legacy Vol. 1)
Leadbelly's version of this venerable song was neither the first nor the most famous, but there's something direct and sad about his delivery that makes this take on the cautionary tale one of the best. Never mind that it should be a woman warning her sister away from the whorehouse that's ruined her life; Leadbelly's resignation in the final verse has a chill of its own.
8. Jelly Roll Morton, "New Orleans Bump" (available on Jazz King Of New Orleans)
An early jazz giant, Morton knew whereof he wrote when he penned this ominous, almost sleazy tribute to his hometown, where he once worked as the in-house pianist for Storyville bordellos at the tender age of 10.
9. Bluerunners, "Coulee Rodair" (available on Honey Slides)
Since the '40s, New Orleans' dominant sound has drawn equally from black spirituals, French café ballads, and hillbilly stomp. From the '70s onward, southern rock and funk added thicker textures. For more than a decade, Bluerunners have ladled from this musical stew, primarily mixing Southern boogie with punchy zydeco. On the bayou-mired "Coulee Rodair," the band achieves an offhanded, blissed-out grace, as the accordion and slide guitar half-dance, half-stumble around each other.
[pagebreak]
10. Bruce Daigrepont, "Laissez Faire (Let It Be)" (available on Stir Up The Roux)
In a city where drag queens, strippers, prostitutes, and drunks share the same space as artists and power brokers, no sentiment sums up the civic character better than "Laissez Faire." Cajun stalwart Daigrepont recites his creed in Acadian French, set to a melody that riffs on "Jambalaya" and European festival music. The accordion and guitars drop out at the climax, leaving Daigrepont and his background singers to shout the chorus like a fervent prayer.
11. Professor Longhair, "Tipitina" (available on New Orleans Piano)
In their nationwide search for regional jazz and blues, the Atlantic Records brain trust of Ahmet Ertegun and Jerry Wexler turned up the man affectionately known as "Fess," and recorded this free-swinging, piano-driven novelty song, whose nonsense lyrics and asynchronous rhythms helped establish the New Orleans sound.
12. Elvis Presley, "New Orleans" (available on King Creole)
A Jerry Leiber/Mike Stoller-penned bit of Dixieland-tinged silliness from one of Elvis' more ambitious screen ventures, this tourists'-eye view of the Big Easy would just drift away if Presley didn't completely sell it. "You'll never know what heaven means / until you've been down to New Orleans." Amen.
13. Aaron Neville, "Tell It Like It Is" (available on Ultimate Collection)
Easily the most recognizable voice in The Neville Brothers (if not all of Louisiana), Aaron Neville had his first hit in 1966, with this simmering soul classic. Neville's feather-light, cotton-soft vocals flutter around the brass hangings and cantering rhythm, sounding simultaneously defiant and resigned as he tells his lover, "You might as well get what you want, so go on and live."
14. Sonny Landreth, "South Of I-10" (available on South Of I-10)
Those who drive west out of New Orleans on I-10 skim the top of Lafayette, the bayou city that's New Orleans musical sister. Roots-rocker Landreth—who served an apprenticeship with Clifton Chenier—recorded this anthem for his adopted hometown in 1995, investing it with scorching slide-guitar leads and his heartfelt belief that "South of I-10, we've really got it made."
15. C.C. Adcock, "Runaway Life" (available on Lafayette Marquis)
New-breed Lafayette singer-songwriter C.C. Adcock has positioned himself as a vital heir to his home state's musical tradition, with a snaky roots-rock sound that owes a lot to Peter Case, Steve Forbert, and Tom Petty. Adcock's loose, guitar-driven Creole style comes together superbly on "Runaway Life," where woozy fiddles and Adcock's absent rasp enhance the story of a restless man who can't seem to leave home. It's as Louisianan as its opening line: "Hey ya ya."
16. Earl King, "No City Like New Orleans" (available on Hard River To Cross)
The French Quarter has plenty of amazing places to eat and drink, and at any spot on any night, a patron has at least an 80 percent chance of hearing some top-shelf R&B floating across the street from one of the nightclubs. Up until Earl King's late-'90s retirement, he might well have been the midnight entertainment, ripping through seamless blues riffs and belting out songs like this paean to his home town, which is the best place to live even if "you might be a king and you might be a queen."
17. Allen Toussaint, "Southern Nights" (available on Southern Nights)
Glen Campbell turned Toussaint's 1975 dreamscape into a countrypolitan hit, and though Campbell's version has its charms, it can't touch the mad genius of the original, which matches Toussaint's marching-band melody with underwater vocals and multiple cascading pianos. Even though it came first, it plays like the reprise to Campbell's take: a night of glorious revelry seen from the foggy perspective of the following morning.
18. Fats Domino, "Walking To New Orleans" (available on My Blue Heaven: The Best Of Fats Domino)
Done wrong by his woman, Fats Domino decides to head home the hard way to the city that does him right. Domino was rescued from his flooded New Orleans home last week. Here's hoping that he, and many other New Orleanians, find their way home soon.