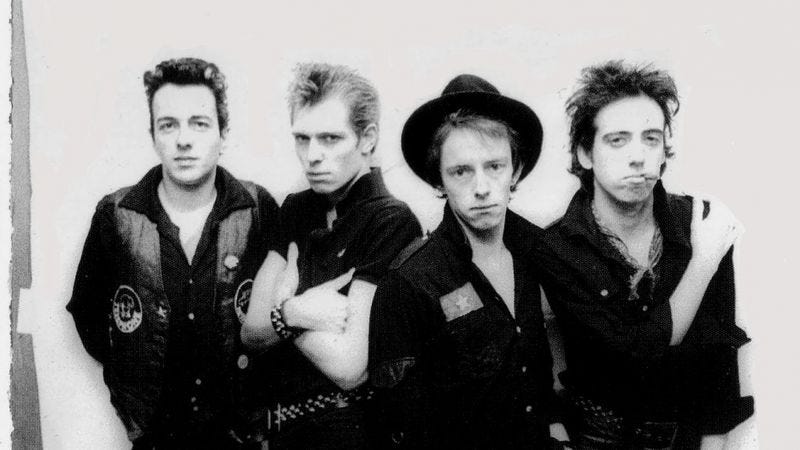 In Hear This, A.V. Club writers sing the praises of songs they know well—some inspired by a weekly theme and some not, but always songs worth hearing. This week, our favorite songs with (parenthetical) titles.
Nearly three decades since the band's dissolution, The Clash's legacy as a punk rock founding father is hardly in question. As one of England's earliest exports, The Clash was challenging from the jump—instead of dealing in the down-stroked aggression of the Ramones or the spit-slinging raunch of the Sex Pistols, the group took its influence from reggae as much as anything that could be considered proto-punk. Its self-titled debut cemented its ability to avoid being put in any one box, and it was that versatility that allowed 1979's London Calling to make such a splash. But, before that crossover success could be cemented, there was "(White Man) In Hammersmith Palais."
On Give 'Em Enough Rope, the album between its debut and London Calling, The Clash embraced jangled hooks and up-stroked melodies, and though plenty of that material would find its way onto Rope, a fair portion was held for singles. "(White Man) In Hammersmith Palais" was one such a track, and it proved to be a defining song for the band, so much so that it was retroactively placed on the American release of The Clash in 1979. It's obvious why, as after a quick count-off the song takes flight with soaring riffs and Mick Jones' comforting "Ooo-ooo"s. The band not only adopts a reggae strut in the verses, but vocalist Joe Strummer opens by telling the story of a reggae night at the Hammersmith Palais in London. Strummer sets the scene by peppering in the names of performers, but he quickly gets lost in a multitude of ideas, his story of a somewhat disappointing show quickly shifting to concerns about wealth distribution, bands decked out in three-piece suits, and a few customary jabs at London.
It's this kind of freewheeling recount—set atop a song that sees The Clash showing all the best sides of itself—that make "(White Man) In Hammersmith Palais" such a necessary track, one that eventually got its just due as something more than a holdover single between albums. It's a precursor to what would come a year later on London Calling, showcasing Strummer's ability to take a song that focused in on a specific moment and turn it into something timeless.