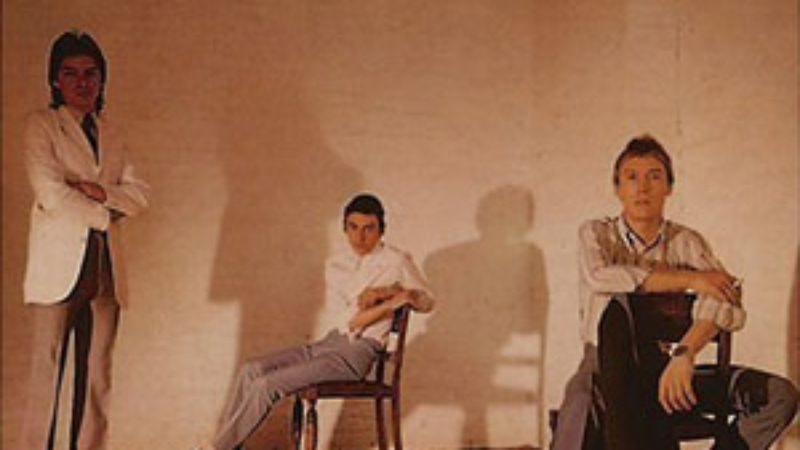 The Jam
All Mod Cons
(Polydor/Ume)
The context: The phrase "all mod cons" stands for "all modern conveniences," but Paul Weller was flexing his sarcastic wit when he used it as the name of The Jam's third album. After its 1977 debut, In The City, The Jam got lumped in with the burgeoning British punk scene; nonetheless, the group's sharp suits and embrace of '60s rock and soul launched a revival of mod culture. That revival exploded with the 1979 release of the film Quadrophenia—but when All Mod Cons came out in 1978, Weller was still the uncontested core of the movement. But as the album title's cynicism shows, Weller was as wary of mod as he was of punk, even though both associations were instrumental to his success. That friction between cult heroics and populism was the fuel Weller ran on: Within two years of All Mod Con's release, The Jam became one of the biggest bands in British history, a status it retains 25 years after its breakup.
The greatness: All Mod Cons was The Jam's first giant leap toward greatness. Its predecessor, This Is The Modern World, was an unfocused mess of mostly lackluster songs (plus a corny Wilson Pickett cover), and the whole thing bore only a hint of In The City's punky fire. Weller, barely 20 when All Mod Cons was released, dove deeper into his roots just as the nascent post-punk scene was turning futuristic: The Kinks became his new benchmark, and the album includes a faithful, forceful rendition of The Kinks' 1967 class-conscious "David Watts" (sung by bassist Bruce Foxton, whose voice in The Jam was quickly dwindling). All Mod Cons' first two songs—the title track and "To Be Someone (Didn't We Have A Nice Time)"—are surprisingly effective explorations of the dark side of stardom, but Weller is careful not to get too insular. Just coming off a humiliating U.S. tour opening for, of all bands, Blue Öyster Cult, Weller sounds wise and wounded beyond his years. Besides sterling, bittersweet power-pop in the form of "Billy Hunt" and "The Place I Love," All Mod Cons boasts the politically charged "'A' Bomb In Wardour Street," an apocalyptic nightmare set to slashing riffs and raw imagery. Most startling, though, is a pair of gorgeous folk ballads: "Fly" and "English Rose"—the latter still a staple of Weller's solo shows—are awkwardly tender moments of adolescent romance that gently offset the songwriter's punk-jabbed vitriol. The Jam's next two albums, Setting Sons and Sound Affects, have higher highs and lower lows, but All Mod Cons is the band's most uniformly excellent record—and one that captures Weller at a perfect spot between acidic indignation and careful yet ambitious songcraft.
Defining song: "Down In The Tube Station At Midnight" was All Mod Cons' hit single, and it remains one of the most intelligent, scathingly catchy, and ass-kicking songs of the original punk era. Honing the upbeat yet enraged pop Weller would later bring to The Jam's biggest hits ("Going Underground" and "A Town Called Malice"), "Tube Station" bristles with furious energy. Like "'A' Bomb In Wardour Street," it's a condemnation of xenophobia and mob violence—only told from the point of view of an immigrant being attacked in a subway station while on his way home to have dinner with his wife. Sharp and simple—and all the more arresting because of it—the track weds Weller's seething narrative and siren-like leads to Foxton's alternately chunky and supple bass. Weller's subsequent work with The Style Council and his solo career have birthed classics as well as duds, but "Tube Station" remains one of his searing, tension-fraught anthems.