In Vinyl Retentive, A.V. Clubbers share what we find while crate-digging in our own houses.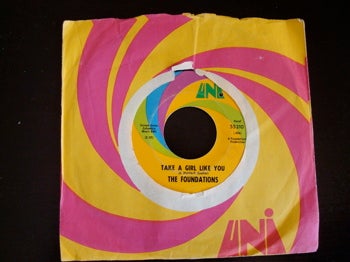 The Foundations
"Take A Girl Like You" b/w "I'm Gonna Be A Rich Man"
Uni Records, 1970
Format: 7-inch single
File Under: Tough bubblegum
Remember that darkened movie theater 10 years ago where you sat and chuckled warmly at the following footage, feeling an instant, hollow nostalgia for a film you just finished watching five seconds ago?
Man, I hate those fucking end-credit montages. Besides being cringingly corny and lamely self-celebratory, they usually maul and forever handicap a perfectly pleasant oldie. Sure enough, There's Something About Mary resurrected and promptly ruined "Build Me Up Buttercup," a Top 10 hit in 1968 for an English group called The Foundations. The song followed the band's big single from the previous year, "Baby, Now That I've Found You"–and taken together, you'd assume The Foundations specialized in cheery, sunny, groovy pop that fell somewhere Motown and The Turtles. And you'd be right. Except, that is, for this song: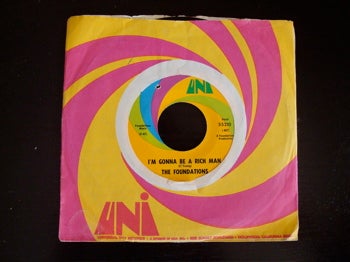 "I'm Gonna Be A Rich Man"–the B-side of the 1970 single "Take A Girl Like You," which was released in conjunction with the Hayley Mills vehicle of the same name–was one of The Foundations' last stabs at chart action before fading to a footnote. But by 1970, the band, like Mills, was already obsolete, a signifier of '60s that simply couldn't make the transition into the new decade's acutely self-conscious sophistication. Put bluntly, the band made bubblegum. And while bubblegum pop would find its own avatars in the '70s, The Foundations–a band with one member already pushing 40–certainly wasn't destined to be one of them.
The Foundations, in fact, had a pretty sundry lineup. Comprising West Indians, a Sri Lankan, and some standard-issue white folks, the band was rivaled perhaps only by Eddy Grant's The Equals when it came to racial diversity in the British pop scene at the time. And then there was the age gap: 20 years separated The Foundations' youngest member from its oldest. Yup, the group was weird for its time, even if there's no denying the helium-inflated chirpiness of its hits. But change was in the air in 1970, with lots of heavy, blues-influenced bands like Led Zeppelin, Jeff Beck Group, Free, and Fleetwood Mac all the rage in England. The Foundations, oddly enough, decided to get similarly down and dirty with "I'm Gonna Be A Rich Man."
Being the B-side, "Rich Man" was probably intended as nothing more than a workout for the song's composer, lead singer Colin Young. It's a little-known fact that Pete Townshend's pal, "Fire" singer, and all-around nutjob Arthur Brown was the frontman of The Foundations for about a month during its germinal stage, and it's easy to imagine him singing "Rich Man" in Young's place. Instead of a sugary slice of lovebird pie, it's a raging, chugging, R&B; rocker sang from the POV of a destitute black man who bitterly admits what he has to do to escape his fate: "Gonna work for a white man / Gonna work like a dog / Gonna work in the cotton field / Gonna work cutting cane." The brief horn break in the middle of the song is a sinuous, Afro-accented riff that could have jumped straight out of Uni labelmate Hugh Masakela's trumpet, and it's followed by a vicious bee sting of a guitar solo. Oh, and the Hammond organ? Pure Spencer Davis Group, throbbing and relentless.
I seem to remember the liner notes of an old reissue of Richard Hell & The Voidoids' Blank Generation that claimed Voidoid Ivan Julian was once a member of The Foundations. Whether or not that's true, it's not hard to hear a little proto-punk, garage-friendly fury in "Rich Man." Everything about the song–the grim narrative, the otherworldly horn flourishes, that sinewy rhythm–totally rocks, especially compared to the rest of the Foundations' hum-happy output. It's telling that the oufit once served as the backup band for the giggly girl-group The Toys and the gritty soul legend Edwin Starr. Too bad The Foundations never got to explore and find success with its apparently formidable rock side. Then again, some crappy movie probably would have ruined it for me, anyway.
Current whereabouts: After splitting in 1970, the band has been overhauled numerous times for the oldies circuit; the current touring incarnation appears to be a bunch of nobodies with enough cash flow to maintain the licensing fee. (And, of course, they don't have "Rich Man" on their set list.) Depressingly, The Foundations hit the headlines last month when their former bassist, 71-year-old Peter MacBeth, was sentenced to six years in prison for child rape and kiddie porn. The sentence was reduced due to the fact that he'd recently had a cancer-related tracheotomy. Yikes.
Record availability: The single is fairly cheap and easy to track down on vinyl, although "Rich Man"–despite never appearing on an album by The Foundations–is included on one of the group's many anthologies, The Very Best Of The Foundations.
Key track: "I'm Gonna Be A Rich Man"
Wimpy but still pretty decent track: "Take A Girl Like You"