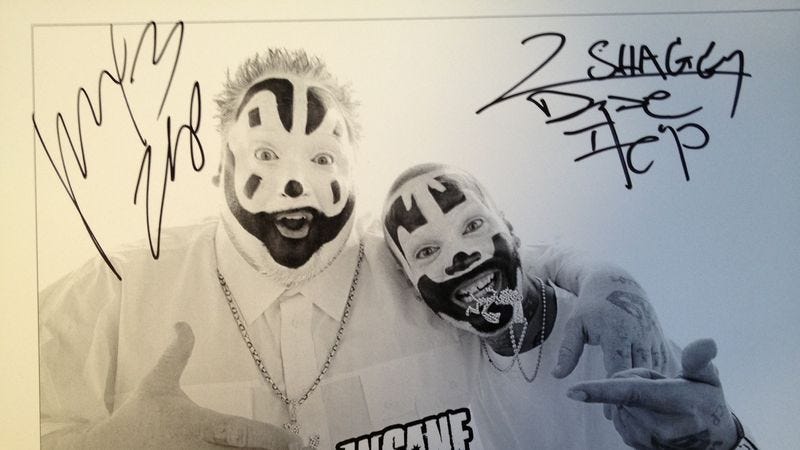 The A.V. Club has a long history of both totally supporting and being totally confused by Juggalo culture. We get that people like Insane Clown Posse—and some of those people even worked here and went to the 2012 Gathering—but we also get that it's not for everyone. That doesn't mean that we wouldn't all want to go to ICP's annual Gathering Of The Juggalos, and thus, this year, we're giving one lucky A.V. Club reader a chance to pack up his or her car and best friend and head on down the Psychopathic Records hangout.
That's right. One A.V. Club reader will win a pair of tickets to this year's Gathering Of The Juggalos, which will be held this July 23-26 at Legend Valley in Thornville, Ohio, right outside Columbus. That reader will also get a signed promotional portrait of ICP's Violent J and Shaggy 2 Dope, as pictured above.
There are some catches, of course. Winners will have to provide their own transportation to the gathering, and lodging, food, etc. are not provided. Even so, each ticket is valued at $180, making the value of the pair a fat $360 for the contest winner. Also, winners cannot sell the tickets, so if you're going to enter, make sure you're actually going to go.
To enter, e-mail avcontests@theonion.com and include the word "Juggalo" in the subject line. Please include your full name and address in the body of the email. The winner will be drawn at 10 a.m. central time on Wednesday, June 25. Whoop whoop!