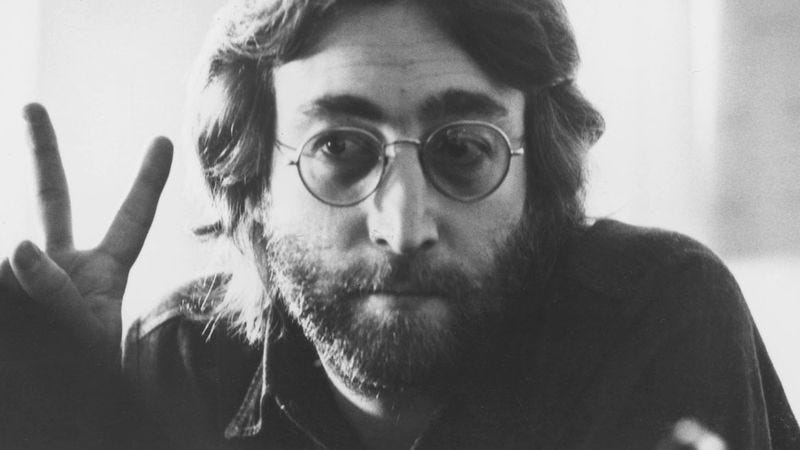 1. "Woman Is The Nigger Of The World," Some Time In New York City (1972)
Since his murder in 1980, John Lennon—who would've turned 73 on Wednesday—has ascended into pop-cultural saintdom: more the peace-loving, sensitive soul who gave the world "Imagine," less the prickly asshole who basically ignored his first-born son. More than three decades since his death, it's easy to forget how confrontational he could be when he was alive. When The Beatles broke up in 1970, Lennon had a head start as a solo artist, not to mention the goodwill of millions of fans. Granted, there was a groundswell of antipathy toward Lennon's wife, Yoko Ono, whom many blamed for band's breakup (or for at least accelerating it). It's easy to imagine that some of Lennon's defensiveness about Ono—not to mention her own strong will and artistic vision—fueled their collaboration "Woman Is The Nigger Of The World." But, oh, what a case of button-pushing overcompensation. Released in 1972, the song makes a valid point, and one that's revolutionary for the time, considering Lennon's cultural eminence: that women's liberation requires something stronger than hippie-dippy lip service. The provocative title came from an Ono quote in a magazine interview from 1969, but having Lennon himself crooning the N-word was tantamount to career suicide. The repercussions came at the cash register: The single tanked. Lennon was mostly able to explain away his use of such strong language, not to mention his oversimplified equation of black slavery to women's subjugation. After all, epithet aside, "Woman" is a fantastic song. But at a time when rumors of a Beatles reunion still swirled, it also made "the smart one" seem kind of like an idiot.
2. "God," John Lennon/Plastic Ono Band (1970)
Despite the gospel-tinged chord progression and Billy Preston's church-organ-esque inflections on the piano, John Lennon seems to go out of his way to alienate devotees of, well, everything with "God." In the opening lines he defines God simply as the concept by which people measure pain, and then uses the rest of the song to blatantly state his disbelief in just about anything people might believe in: magic, I Ching, the Bible, tarot, Hitler, Jesus, Kennedy, Buddha, mantra, Gita, yoga, and of course, Elvis. And in case there were any Beatles-worshippers still hanging on to Lennon as their God, he shuts that down and solidifies the Yoko myth when he declares, "I don't believe in Beatles / I just believe in me / Yoko and me." While also one of Lennon's most earnest, confessional compositions, "God" is a public renunciation of having faith in external things. The underlying message seemed to be, "Everyone, back the fuck off. John Lennon doesn't need saving."
3-4. "Don't Worry Kyoko (Mummy's Only Looking For Her Hand In The Snow)" and "John John (Let's Hope For Peace)," Live Peace In Toronto 1969 (1969)
Shortly before The Beatles broke up, John Lennon was asked to be the master of ceremonies for the Toronto Rock And Roll Revival Festival, which featured legacy acts like Chuck Berry, Little Richard, Jerry Lee Lewis, and Fats Domino as well as newer acts like Alice Cooper and The Doors. Lennon said he'd host if he could play, and then threw together a group of musicians under the Plastic Ono Band moniker. While most of the eight songs the group played were either '50s covers or takes on late-period Beatles songs like "Give Peace A Chance," the group closed with two Yoko Ono compositions, both of which showed up on the Live Peace In Toronto 1969 record later released by The Plastic Ono Band. While "Don't Worry Kyoko (Mummy's Only Looking For Her Hand In The Snow)" at least has a bit of guitar riffage involved—courtesy of Eric Clapton—it still amounts to about four minutes of Ono's atonal wailing. "John John (Let's Hope For Peace)" is even worse: It opens with about two minutes of Ono's unaccompanied screeching, followed by 10 more minutes of the Plastic Ono band messing around with feedback. The crowd of more than 20,000 people was put off, to say the least, and the songs weren't included in subsequent edits of the concert film. Capitol Records didn't even want to release Live Peace In Toronto, citing its aversion to Ono "screaming on one side," but ultimately caved, realizing that, in '69, if you wanted Lennon, Ono was part of the deal. It was a dangerous precedent for Lennon to set as he took off on his own without The Beatles, but one that he'd stick to for years to come.
5. "Jamrag," Some Time In New York City (1972)
Some Time In New York City is one of Lennon's less-loved solo albums; it's a double album split between studio and live recordings. Side Four is taken from a 1971 concert in which Lennon and Ono joined a Frank Zappa And The Mothers Of Invention performance. For that concert's encore, the Mothers launched into "King Kong," a song from Zappa's album Uncle Meat. But by the time the album went to press, Lennon had renamed the song "Jamrag," and given sole songwriting credit to Lennon/Ono. He claimed the piece—which includes a complicated melody being doubled by several instruments at once—was an improvisation. Zappa complained publicly that, not only had Lennon ripped off his song, he cut the Mothers' backing vocals out of the mix and had Klaus Voorman re-record the bass lines. To add insult to injury, Lennon and Zappa had agreed that each of them could release songs from the concert, but Lennon later blocked Zappa from legally using the material, which didn't appear on a Zappa album until 1992's Playground Psychotics. When the Lennon album was re-released in 2005, several of the live tunes—"Jamrag" included—had been removed.
6. "Revolution"/"Revolution 1," The Beatles (1968)
As rock music and leftist politics became deeply intertwined in the late '60s, many radical Beatles fans hoped that the most acerbic Beatle would declare common cause with the revolution and join them at the barricades. Lennon dashed those hopes with "Revolution," released as the B-side to "Hey Jude," and then, in a different, less anarchic take, on The White Album. In the lyrics, Lennon directed his wit at those who "talk about destruction" and carry "pictures of Chairman Mao," while blandly assuring everyone that, whatever happened, "it's gonna be all right." The album version especially offended such critics as The New Yorker's Ellen Willis, who had at least liked the sound of the single, but complained that the slower, quieter performance on the album made it harder to ignore the words. (Lennon also tried to express his ambivalence by singing "Count me out," then quickly adding, "in," but that just made him seem wishy-washy.) The song was still generating new ironies almost 20 years later, when it became the first Beatles song licensed for a TV commercial.
7. "The Ballad Of John And Yoko" (1969)
"The Ballad Of John And Yoko"—released as a single in a picture sleeve decorated with a photo of John and Yoko flanked by the other Beatles, though only Paul McCartney played with Lennon on the record—was part of the many-sided charm offensive that Lennon launched while he and his new bride were campaigning for the position of Official First Couple Of The Counterculture. Though it means to be funny and sometimes succeeds, the song's implicit comparison of the snotty press that Lennon and Ono had received to Christ's martyrdom struck many listeners as a bit much, and its flip reference to the crucifixion kept it off the radio in some markets. Later that year, Li'l Abner cartoonist and right-wing scold Al Capp gave Lennon shit about it when, at the Lennons' invitation, he visited them at their Bed-In For Peace in Montreal.
8. "Run For Your Life," Rubber Soul (1965)
Later recalled as one of Lennon's least-favorite Beatles tracks—though in the final in-depth interview of his life, he told David Sheff that Harrison was always fond of it—"Run For Life" is an ugly little number no matter its primary composer's subsequent misgivings. The final track on one of the most beloved albums (Rubber Soul) by the world's most popular band, "Run For Your Life" is nonetheless three verses, a chorus, and a bridge of twangy misogyny. Lennon lifted the line "I'd rather see you dead, little girl, than to be with another man" from Elvis Presley's cover of "Baby, Let's Play House," but the Beatle alone is responsible for the sickening fog of menace that settles over the rest of the track, which suggests infidelity is a deal-breaker for the song's narrator (though it also suggests he's prone to breaking bones when he doesn't get his way). It's a topic the artist treated with a lighter touch on Imagine's "Jealous Guy," but not even that track would paper over the regret.